New California Gov. Gavin Newsom Has Been 'Vocally Anti-Gun Every Chance He Gets'
Outcoming Gov. Jerry Brown was no gun rights advocate, but if Newsom's voting record is any indication, he's likely to be even worse.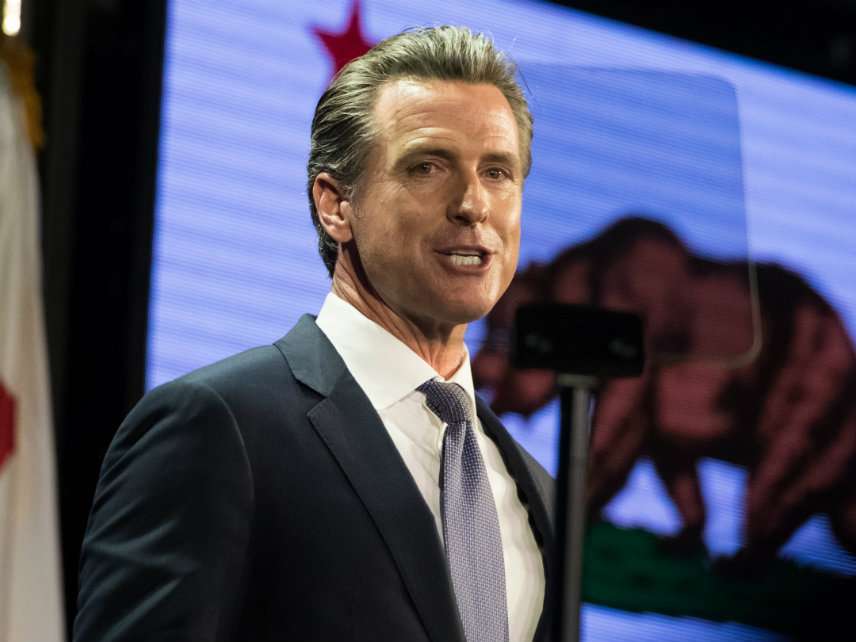 California Gov. Jerry Brown, a Democrat, isn't exactly known as a staunch defender of the rights of Golden State voters to legally keep and bear arms.
But once fellow Democrat Gavin Newsom—who won the governor's race last night against Republican John Cox—takes office, defenders of the Second Amendment may come to miss the state's outgoing chief executive.
Brown signed many anti-gun bills into law. But he vetoed many as well. A list prepared by the Sacramento-based Firearms Policy Coalition (FPC) shows that, since taking office in 2011 for his second stint as governor, Brown vetoed no fewer than 26 anti-gun proposals.
"I'm going to miss Jerry Brown because it's going to be much, much worse going forward," says Brandon Combs, president of the FPC.
Brown vetoed a 2013 bill, SB 374, that would have dramatically expanded the definition of "assault weapon." He vetoed, twice, legislation to restrict gun shows at San Francisco's Cow Palace exhibition hall. Brown vetoed a bill, AB 2333, that would have cracked down on children's BB guns. He vetoed a bill, AB 180, that would have carved out an exception to state preemption law and allowed the city of Oakland to enact stricter anti-gun measures. And he signed AB 2151, backed by the National Rifle Association (NRA), which encourages youth to hunt big game.
When rejecting a proposal that would have required firearm owners to obtain serial numbers from the government, Brown's veto message said: "I appreciate the author's concerns about gun violence, but I can't see how adding a serial number to a homemade gun would significantly advance public safety."
In 2014, Brown's opposition to mandatory background checks imposed on California residents who want to buy ammunition helped to sink that bill, SB 53, in the legislature.
Newsom responded by crafting Proposition 63, which used the state's ballot initiative process to accomplish much the same thing without the approval of the legislature or governor. In addition, Proposition 63 included a mass confiscation of standard capacity firearm magazines, including ones that had been legally owned for decades, which are able to hold more than 10 rounds of ammunition.
Newsom told the San Francisco Chronicle at the time that his revulsion toward firearms dates back to 1973, when his grandfather killed himself with one.
"My grandfather committed suicide, but not before putting his daughter—my mother—and her twin against the fireplace and saying he was going to blow their brains out," Newsom told the newspaper. "That's how I grew up. That's how I found out about guns."
"I can't stand 'em."
In 2016, Proposition 63 was approved by California voters by a margin of 63 to 37 percent.
Newsom has "been vocally anti-gun every chance he gets," says Combs. "He doesn't shy away from saying that he's welcoming new gun control, way beyond what we have today in California." (The NRA has given Newsom an F rating.)
Combs believes that position, coupled with the 9th Circuit Court of Appeals' permissive attitude toward Second Amendment violations, will usher in a wave of new anti-gun laws: Unless federal courts intervene, Californians may end up with the right to own merely one handgun, in their homes, locked up, and nothing else.
"Anything beyond that, not only can they ban prospectively, but they can ban retroactively" as well, Combs says.
During his campaign for governor, Newsom has used gun owners and the NRA as a political foil. He's accused President Trump of being "bought and paid for by the NRA," has said that "the NRA's reign over our country and our laws must end." He has called for "comprehensive gun control" and even posted a video to Twitter claiming that "it's faster to buy an assault rifle than a cup of coffee." (California law already requires that all firearm purchases take place through a licensed dealer, with federal and state government background checks performed, and a mandatory 10-day waiting period imposed.)
By contrast, Brown hails from a different era of California that allowed him to rise above partisan politics, says Gene Hoffman, chairman of the Calguns Foundation, which frequently files lawsuits to protect Californians' rights to keep and bear arms.
"Gavin is of the era where, after the utter defeat of any Republican influence, all politics is California is about who is further left," he says. "And there are few things modern leftists like more than disarming citizens."