Philadelphia Will Dismantle Its Asset Forfeiture Program and Pay $3 Million to Victims
A legal settlement guarantees reforms to what was once one of America's most egregious asset forfeiture programs.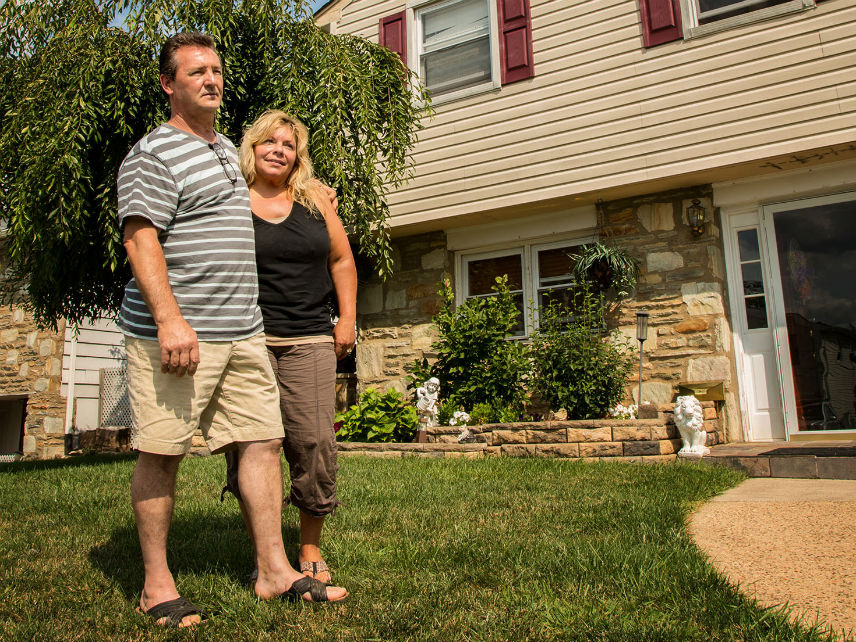 Four years after Philadelphia police seized the home of Markela and Chris Sourovelis for a minor drug crime committed by their son, the city has agreed to almost completely dismantle its controversial civil asset forfeiture program and pay $3 million to its victims.
The Institute for Justice, a libertarian public interest law firm, announced today that the city had agreed to a settlement in a federal civil rights class-action lawsuit challenging its forfeiture program.
"For too long, Philadelphia treated its citizens like ATMs, ensnaring thousands of people in a system designed to strip people of their property and their rights," Darpana Sheth, a senior attorney at the institute, said in a press release. "No more. Today's groundbreaking agreement will end years of abuse and create a fund to compensate innocent owners."
The Institute for Justice filed the suit in 2014 on behalf of the Sourovelises, a couple whose house was seized without warning after their son was caught selling $40 worth of drugs outside. The same day the Sourovelises dropped their son off for court-ordered rehab treatment, they returned to find police had locked them out of their own home, even though there was no evidence they were aware of the drug activity.
The lawsuit alleged that the city was seizing 300 to 500 homes a year, violating residents' constitutional rights and creating an illegal profit incentive, since forfeiture revenue directly funds police and district attorney budgets.
Under civil asset forfeiture laws, police can seize property—cash, cars, and even houses—suspected of being connected to criminal activity, even if the owner is not charged with a crime.
Law enforcement groups say such laws are a vital tool because they let them disrupt organized crime by cutting off the flow of illicit proceeds. Civil liberties groups reply that the practice has far too little due process for innocent property owners and far too many perverse profit incentives for the police. Those incentives often lead law enforcement to target everyday people rather than cartel bosses.
As I wrote in 2014, reporting on the daily happenings inside Philadelphia's asset forfeiture court:
Philadelphia hauled in $64 million in seized property over the last decade, according to an investigation by the Philadelphia Inquirer. That's more than Brooklyn and Los Angeles combined. Not only does Philadelphia take in more than other cities, but the average seizure is significantly more petty. A City Paper review of 100 cases from 2011 and 2012 found the median amount of cash seized by the District Attorney was only $178.
A 2015 report by the Pennsylvania chapter of the American Civil Liberties Union found that almost a third of cash forfeiture cases in Philadelphia involved money owned by people who had not been found guilty of a crime. In one of the worst examples, police seized $2,000 from an 87-year-old pensioner after finding two joints (her husband, a retired dock worker, smoked marijuana to relieve his chronic arthritis) in their apartment.
Residents caught in the asset forfeiture machine had to repeatedly appear for hearings in Room 478, a small "courtroom" in the upper floors of Philadelphia City Hall. The hearings were run by prosecutors. No judge was present, and defendants were not afforded court-appointed lawyers. If a defendant missed a hearing, their property could be summarily taken.
Philadelphia dropped its forfeiture case against the Sourevelises after their plight drew national media attention, but last year a federal judge allowed the Institute for Justice's suit to proceed as a class action. The city also put stricter rules into place for when houses could be seized and voluntarily stopped using forfeiture funds to pay the salary of police and prosecutors.
Under the terms of the settlement, codified in two binding consent decrees, Philadelphia will no longer seek property forfeitures for simple drug possession and will stop seizing petty amounts of cash without accompanying arrests or evidence in a criminal case. It will also put judges in charge of forfeiture hearings, will streamline the hearing process, and will ban the Philadelphia district attorney and Philadelphia Police Department from using forfeiture revenue to fund their payroll.
The city will disburse the $3 million settlement fund to qualifying members of the class action based on the circumstances of their case. A Philadelphia resident whose property was forfeited but was never convicted of a related crime, for example, will receive 100 percent of the value of the property.
Last June, the Pennsylvania legislature passed modest reforms of state asset forfeiture laws. The reforms increased the reporting requirements for asset forfeiture, raised the burden of proof necessary to seize property, and codified Philadelphia's new procedures for seizing homes into law. More than half of all U.S. states have passed some form of asset forfeiture reform in recent years, and in July a federal judge declared Albuquerque's asset forfeiture program unconstitutional.
"I'm glad that there is finally a measure of justice for people like me who did nothing wrong but still found themselves fighting to keep what was rightly theirs," Chris Sourovelis said in a press release. "No one in Philadelphia should ever have to go through the nightmare my family faced."