In the White House, Everyone Hates Trump and Trump Hates Everyone
In his new book, Bob Woodward reportedly reveals a "nervous breakdown" inside the White House, with an unhinged president at the center of the mess.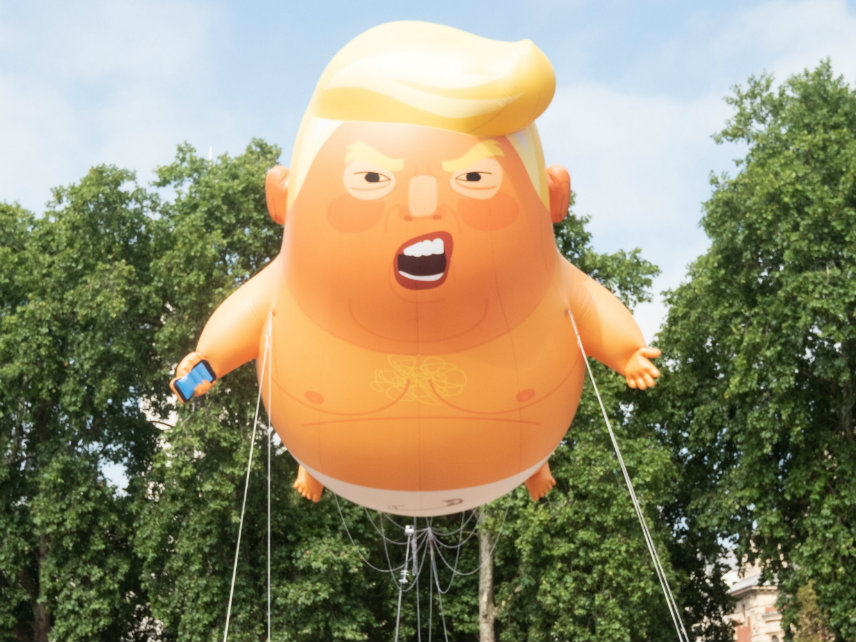 President Donald Trump is a terrible boss, an idiot, and a "fucking liar."
At least that's the picture painted by by Bob Woodward, the Pulitzer Prize-winning chronicler of presidential administrations whose forthcoming book Fear details a complete "nervous breakdown" inside the White House. In excerpts published Tuesday by The Washington Post and CNN, the veteran political reporter describes various scenes of dysfunction and abuse, with the president seemingly hating nearly everyone working for him. Many of his top aides seem to share that sentiment.
One of the more explosive quotes in the Post's account of Woodward's book comes from White House chief of staff John Kelly, who is described as frequently losing his temper over Trump's "unhinged" behavior. "He's an idiot," Kelly said of Trump. "It's pointless to try to convince him of anything. He's gone off the rails. We're in Crazytown. I don't even know why any of us are here. This is the worst job I've ever had."
Trump makes an apparent habit of verbally abusing his senior staff. He described Reince Priebus, who served as chief of staff before Kelly, as "a little rat" scurrying around the White House; referred to former national security adviser H.R. McMaster as looking "like a beer salesman" in cheap suits; and described Attorney General Jeff Sessions as "mentally retarded" and "a dumb Southerner" unfit to be a county lawyer in Alabama, according to the book.
Trump's temper and abusive management style have been previously reported in numerous news stories and through books like the ones written by famed tabloid reporter Michael Wolff and former White House staffer Omarosa Manigault Newman. Previous explosive accounts of internal White House fights have often been contradicted by the president or his aides, and by subjects of the books. It remains to be seen whether Woodward's reporting will stand up to critique, but the excerpts published Tuesday seem to confirm and deepen the view that the current administration is adrift and disorganized, led by a president with neither the knowledge nor the management skills to navigate the complexities of the most powerful office in the world.
And the chaos inside the White House has an effect on policy.
In one scene, Woodward describes Defense Secretary James Mattis' frustration after leaving a meeting with the president about foreign policy on the Korean Peninsula. "Mattis was particularly exasperated and alarmed, telling close associates that the president acted like—and had the understanding of—'a fifth- or sixth-grader,'" Woodward writes, according to the Post.
In another section, top aides told Woodward that they conspired to remove documents from Trump's desk that, if signed by the president, would have removed the United States from a trade agreement with South Korea.
John Dowd, Trump's personal attorney who quit abruptly in March of this year, reportedly described the president as "a fucking liar," according to CNN. Dowd issued a statement Tuesday claiming he had been misquoted by Woodward and challenging Woodward's account of a January 2018 mock interview of the president by his legal team intended to determine whether Trump could be trusted to testify before special counsel Robert Mueller. According to Woodward, the interview did not go well. It ended with Dowd warning that Trump would end up "in an orange jumpsuit" if he went under oath.
Dowd says none of that happened. "There was no so-called 'practice session' or 're-enactment' of a mock interview at the Special Counsel's office," he said Tuesday. "Further, I did not refer to the President as a 'liar' and did not say that he was likely to end up in an 'orange jump suit.'"
But the fact that such denials are even necessary gives some indication of just how far beyond the pale things have gone. It's also noteworthy that the White House seemed blindsided by the allegations in the book. Hours after the Post and CNN published excerpts of Woodward's book, there has been no formal push-back or denial from the president or his staff. The bizarre silence suggests that even if Woodward's account is not fully accurate, this White House is too dysfunctional and disorganized to quickly rebut explosive, firsthand claims of incompetence on two of the country's biggest media platforms.
Woodward's account should be subject to scrutiny—he claims to have hundreds of hours of interviews, mostly conducted on "deep background," according to the Post—but his status as a revered and trusted journalist will make it harder for the White House (and, perhaps more important, Republican lawmakers, party officials, and voters) to dismiss the obvious: Trump is a bad boss and an incompetent chief executive.
It seems like we already knew those things, but each new piece of evidence renders alternative explanations that much less believable.