New Mexico Reinstates Straight-Party Voting Just in Time to Thwart Gary Johnson
Democratic secretary of state in heavily Democratic state unilaterally changes voting rule in a way that favors Democrats (and punishes Libertarians). Republicans say they'll sue.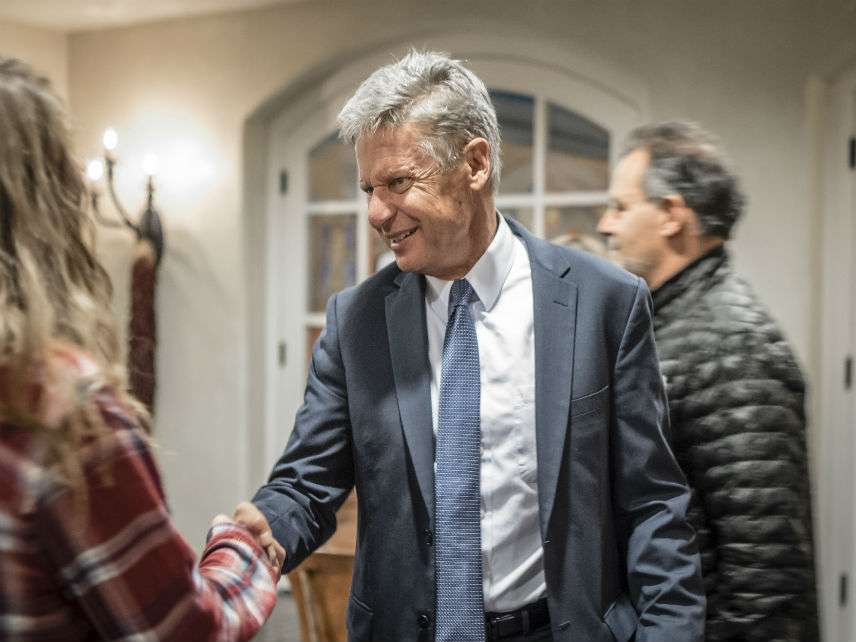 In a sudden move with suspicious timing, New Mexico Secretary of State Maggie Toulouse Oliver, an elected Democrat, announced today that voters in November will once again be able to vote for every candidate of a political party on the ballot by filling in just one blank. The option, known as the "straight-party" device, gives obvious advantage to parties with high voter-registration totals, while erecting roadblocks to otherwise over-performing candidates from third parties.
Like, say, Libertarian Senate candidate Gary Johnson.
As of July 31, 45.9 percent of eligible New Mexico voters were registered Democrats, compared to 30.5 percent Republican, 0.7 Libertarian, and a combined 1.0 percent other (21.9 percent were unaffiliated). Johnson, in the only three-way poll conducted since he officially announced, was at 21 percent, compared to incumbent Democratic Martin Heinrich's 39 percent and Republican nominee Mick Rich's 11.
Oliver, who made the changes reportedly without so much as a single public hearing on the issue, cast her narrow-casting decision as matter of expanding choice.
"The more options people have, the easier it is for more eligible voters to participate—and participation is the key to our democratic process," she said in her statement. "As Secretary of State, I am committed to making it easier—not harder—for New Mexicans to vote….From moms juggling work and kids to elderly veterans who find it hard to stand for long, straight-party voting provides an option for voters that allows their voices to be heard while cutting in half the time it takes them to cast their ballot."
Johnson's reaction was withering.
"Suggesting that New Mexico voters don't want to take the time to actually indicate their preferences for each office is ridiculous," he wrote in an email. "Pushing voters toward straight ticket voting is a worn-out staple of major party incumbents, and flies in the face of the reality that the great majority of voters are independent-minded and don't need or appreciate a ballot that provides a short-cut to partisanship."
The Republican Party of New Mexico, meanwhile, has announced its intentions to sue, according to the Associated Press.* (The Libertarian Party has joined; see update below.) And at least one Democrat, state Sen. Jacob Candelaria, complained in response that the practice gives "partisan advantage in low-information elections," according to The Albuquerque Journal.
The decision did not come totally out of the blue: Toulouse Oliver, an elected official seeking re-election this November, has campaigned on reinstating straight-party voting, which the state had eliminated in 2012.
Richard Winger provided further context for the decision over at Ballot Access News:
States have repealed straight ticket devices in the past fifty years are Delaware, Georgia, Illinois, Iowa, Missouri, New Hampshire, North Carolina, Rhode Island, South Dakota, Texas (effective 2019), and Wisconsin. Michigan repealed its device in 2016, but a U.S. District Court recently struck down the Michigan repeal.

Besides Michigan and New Mexico, the only states that still have straight-ticket devices are Alabama, Indiana, Kentucky, Oklahoma, Pennsylvania, South Carolina, and Utah.
It is hard to read straight-ticket voting as anything but representatives from the two major parties blunting third-party competition and cementing their own incumbency, regardless of voters' growing disaffection with party membership and loyalty over time.
* UPDATE:
I am the Vice Chair for the LPNM and I am officially informing you that we are joining the lawsuit toward an injunction. I wrote an email to your editor. Below is a link to a donate on our website, specifically set up for assisting with legal fees.https://t.co/ODcCdeRuIM

— Helen Milenski (@pegahoot) August 30, 2018