Local NIMBYs Hold Up Medal of Honor Museum Over Height Concerns
Designed by famed architect Moshe Safdie, a planned Medal of Honor Museum is 75 feet too tall for local zoning codes.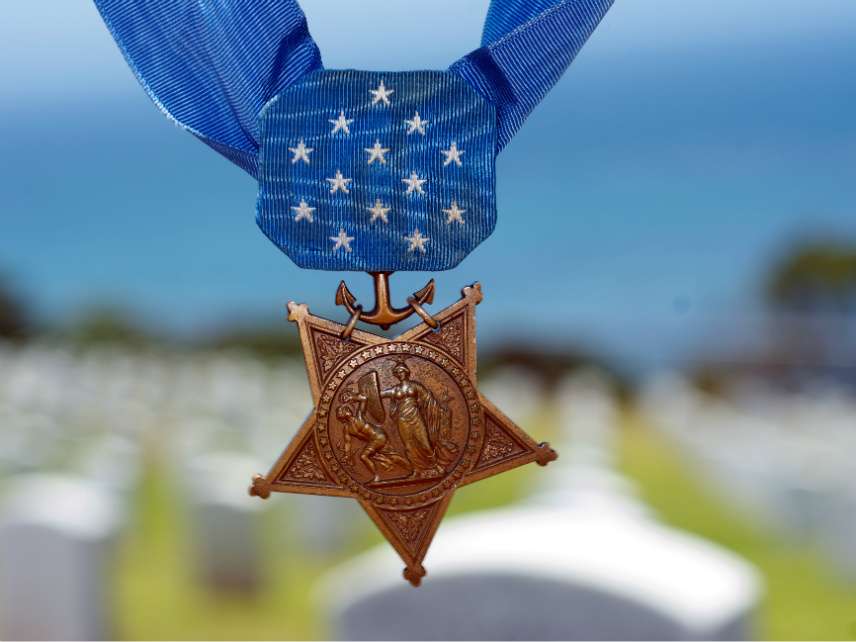 The Medal of Honor Foundation spent years planning a memorial for the recipients of the American military's highest honor. The famed architect Moshe Sadfie—designer of such iconic structures as Jerusalem's Holocaust memorial and Montreal's Habitat 67—has been tapped to design the building, which the foundation intends to erect in Mount Pleasant, a suburb of Charleston, South Carolina. Sadfie envisions a sleek, pentagonal structure.
Designs were finalized back in 2015, and the foundation has raised $19 million of the $100 million it will need to finish the museum. Everything seemed to be falling into place—until it came time to get the government's approval. In January, the Mount Pleasant Planning Commission rejected the project nearly unanimously for being 75 feet too tall.
Sadfie's design calls for a 125-foot structure. But the plot where the foundation wants to build the museum is not zoned to allow buildings of more than 50 feet.
"I have ultimate respect for this project. I just think it's a little much," said Commissioner Roy Neal in January, just before he voted to reject the design.
The city council can approve variances for taller buildings, and other structures near their proposed site go as high as 80 feet. The flight deck of the World War II aircraft carrier USS Yorktown, stationed right next to where the museum would be built, is nearly 100 feet high.
Nevertheless, the Mount Pleasant city council has refused to budge on the height issue, citing the character of the building, concerns about whether financing for the project will come together, and irritation at an alleged lack of consultation from the project's planners. Designs for the project were available for three years on the foundation's website.
In late May, the Foundation agreed to scrap its current design and committed to hearing community input on what the museum should look like. In late June, the foundation held the first of two public meetings on a new design, where community members expressed a desire that it be "awe-inspiring." Another public meeting is planned for later this month.
To be clear, the Medal of Honor Museum is no libertarian dream project. Some 20 percent of its funding comes from South Carolina taxpayers, and it is being built on public land owned by the Patriots Point Development Authority.
But the city's objections to the project do not hold that there has been too much government involvement, but rather that there hasn't been enough. "They didn't consult with town council," Mount Pleasant Councilman Joe Bustos complained to CityLab. In other words: They didn't do the requisite consultation and ring-kissing. And what good is a building without that?