Feds Arrest 'Occupy ICE' Protesters in Portland
Officers in riot gear made their move Thursday in an attempt to reopen Immigration and Customs Enforcement headquarters in Portland.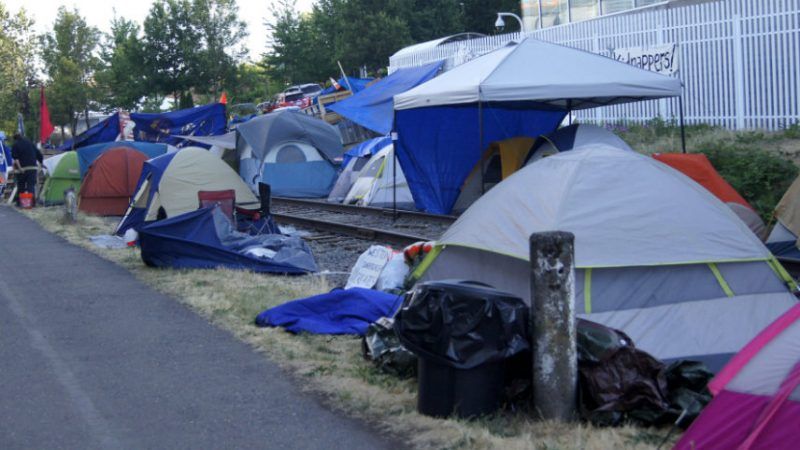 (Tania Cidoncha/EFE/Newscom)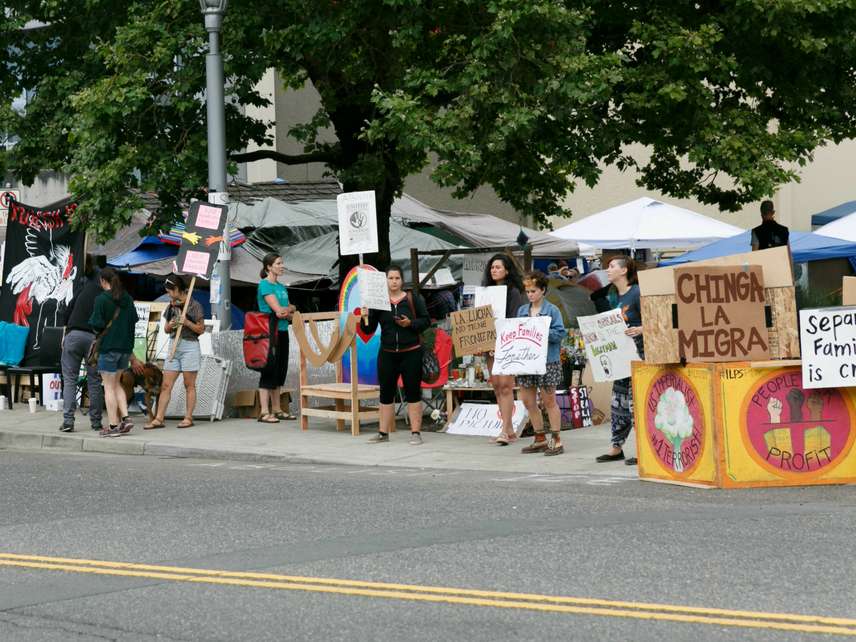 More than a week after protesters forced the closure of Immigration and Customs Enforcement (ICE) headquarters in Portland, federal officers in riot gear moved in on the demonstrators Thursday in an attempt to reopen the facility.
The Occupy ICE PDX protest started early last week, as demonstrators set up camp along the building and blocked the entrance. They were protesting the Trump administration's zero tolerance immigration policy which triggered separations of undocumented families apprehended while trying to cross the U.S.-Mexico border.
After issuing several notices reminding the protesters they were breaking the law by blocking the entrance to the building and ordering them to vacate, federal officers made their move early Thursday morning.
"At approximately 5:30 a.m. today, federal law enforcement officers initiated a law enforcement action to reopen the federal facility at 4310 SW Macadam Avenue in Portland," Federal Protective Service spokesman Robert Sperling said in a statement.
According to KGW News, federal officers only took action to clear the entrance so the facility could be reopened. Many protesters camped along the side of the building were left alone. Still, a Department of Homeland Security spokesperson told KATU News that several protesters were arrested.
Federal officers at ICE building in Southwest Portland. Clearing way for business to resume here. Area that is not federal property and not in way of people coming and going from building appear to be left alone. A few officers are on the roof. @KGWNews @KGWSunrise pic.twitter.com/B6uQ0XgWoi

— Tim Gordon (@TimGordonPDX) June 28, 2018
The demonstrators, who successfully shut down the facility on June 20, have previously said they have no intention of leaving. "This group here is ready to move forward and continue doing what we need to do to make sure we abolish ICE," said Danialle James, a member of the Occupy ICE PDX movement.
Several hundred people were involved in the protest, some of whom carried signs that said things like "Refugees Welcome" and "Abolish ICE."
The protest outside ICE headquarters in Portland has sparked similar demonstrations in other major cities across the nation.
Outside ICE's office in Detroit, for example, demonstrators gathered on Monday with signs, tents, and folding chairs. According to an ICE spokesperson, the protest caused normal operations to be "briefly disrupted." In Los Angeles, protesters set up camp outside an ICE facility on Saturday, and in New York on Monday, protesters forced the cancellation of all hearings at an ICE processing center.
However, the Occupy ICE movement has attracted the ire of at least one Republican lawmaker. In a Sunday tweet, Rep. Steve King (R–Iowa) suggested that the protests could serve as a lead-up to civil war.
"America is heading in the direction of another Harpers Ferry. After that comes Ft. Sumter," King wrote, referring to the 1859 attack that served as a precursor to the Civil War.