Feminist Group Demands Spotify's New 'Hate Content' Policy Be Applied to Red Hot Chili Peppers, Eminem
The company's new policy is already giving it problems.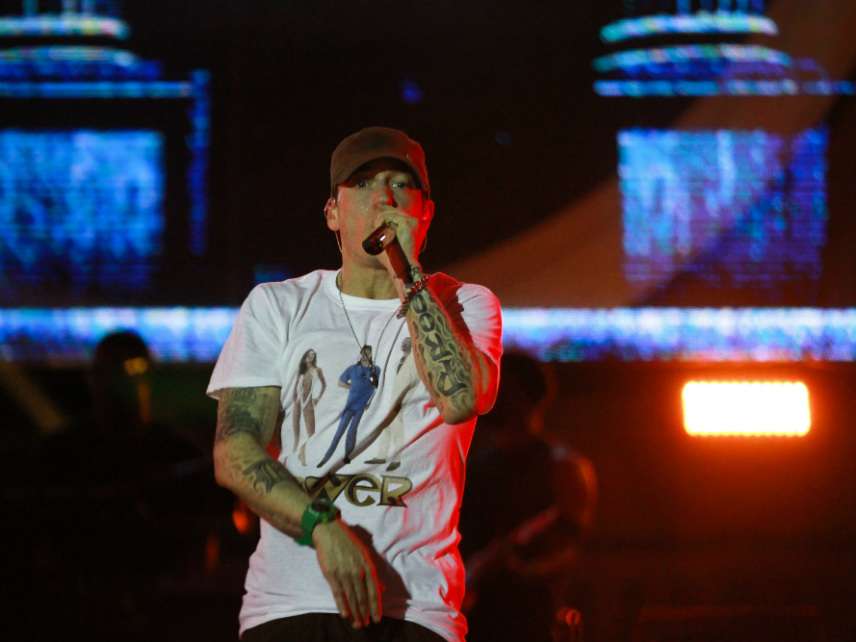 When Spotify introduced its new "hate content and hateful conduct" policy—which promises to suppress songs for violent or hateful lyrics or offstage behavior—I predicted that the streaming service would soon be caught between users wanting easy access to popular music and activists demanding that artists be scrubbed from the platform.
Sure enough, the feminist group Ultraviolet has now sent a letter to Spotify thanking it for the initial steps of removing R. Kelly and XXXTentacion from official playlists— and asking that the company go further.
"These two men are not the only abusers on your platform," writes Ultraviolet's Shaunna Thomas. "We implore you to take a deeper look at the artists you promote." She goes on to call for the company to exile Eminem, Nelly, Don Henley of the Eagles, Steven Tyler of Aerosmith, Chris Brown, rapper Tekashi 6ix9ine, Ted Nugent, and the Red Hot Chili Peppers.
"Every time a famous individual continues to be glorified despite allegations of abuse, we wrongly perpetuate silence by showing survivors of sexual assault and domestic violence that there will be no consequences for abuse," says Thomas. "That has a cultural effect far beyond one individual artist."
Let's be clear: All these performers have done, or at least been accused of doing, awful things.
The Red Hot Chili Peppers' lead singer, Anthony Kiedis, admits to having sex with a girl he knew to be 14 years old in his autobiography Scar Tissue. (He was 23 at the time, and the incident later became the inspiration for the song "Catholic School Girls Rule.") Brown was convicted of battering his then-girlfriend Rhianna in 2009. Eminem pled guilty to a weapons charge in 2001. 6ix9ine received three years' probation for charges stemming from a film he made of himself performing sexual acts with a 13-year-old. Don Henley, Steven Tyler, and Ted Nugent have all either admitted or been accused of sleeping with underage girls.
Let's be clear about this too: Whether or not Ultraviolet is right that these musicians are "glorified" by virtue of appearing on Spotify-generated playlists and promotions, Thomas has a point when she argues that it's inconsistent to refuse to promote R. Kelly's music but not Brown's or Kiedis's. If the company is actually serious about this new policy, it'll have to go a lot further than R. Kelly and XXXTentacion.
And I mean a lot further. Ultraviolet's list just scratches the surface. Whether it's Jerry Lee Lewis marrying his 13-year-old cousin or David Bowie taking the virginity of a 14-year-old, a lot of pop stars' escapades don't conform to modern norms of affirmative consent and gender equity. There's no shortage of articles (start with this listicle from the Phoenix New Times) retelling tales of statutory rape and sexual assault by beloved rockers and rappers.
It doesn't stop there. A fair number of rappers have been convicted of murder, manslaughter, or some other violent crime. Dig into the history of Norwegian black metal and you'll learn that members of such foundational bands as Burzum, Gorgoroth, and Mayhem have been found guilty of church burnings, torture, and murdering bandmates.
And at least two out of four Beatles—John Lennon and Ringo Starr—were domestic abusers.
Needless to say, just because this kind of behavior is common in the music scene doesn't make it OK. But it does raise the question of what a music streaming service can really be expected to do about it. Indeed, blacklisting these bands may make many of Spotify's features functionally useless. What classic rock playlist would exclude the Beatles?
How to treat the work of artists who have done terrible things is a difficult question. It's made no easier by the fact that fans often cheer on musicians' worst behavior, even reveling in the idea that the violence and hedonistic excesses found in their lyrics is at least partially authentic.
It's also a question that companies like Spotify are ill-equipped to answer. Acting as the moral arbiter, as its new policy requires, will only erode the value of its service while leaving individual listeners less able to make moral judgements for themselves.