Selfie-Taking Monkey Loses Federal Copyright Case: Reason Roundup
Plus: Marijuana & money-laundering policies thwart U.S. bankers and Philly sees serious payoff from criminal justice reforms.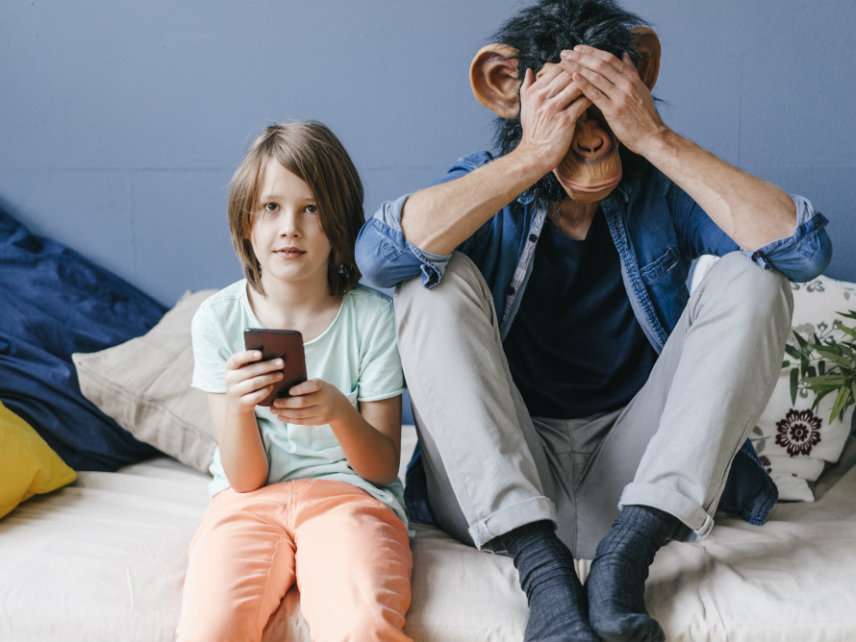 Monkey photographer loses federal copyright case. Good news, fellow humans: We won't have to pay licensing fees to any damn dirty apes anytime soon. Nor to any animals with an artistic streak. The U.S. Court of Appeals for the 9th Circuit just held that copyright infringement claims can only be brought on behalf of humans.
The case was brought by the provocateurs at People for the Ethical Treatment of Animals (PETA). The group sued on behalf of a crested macaque monkey who had taken a series of selfies in 2011. The photos were published by wildlife photographer David Slate (whose phone the monkey had used to express itself), in what PETA claimed was an infringement on monkey Naruto's intellectual property rights.
"Naruto should be considered the author and copyright owner, and he shouldn't be treated any differently from any other creator simply because he happens to not be human," said PETA lawyer Jeff Kerr.
But in its April 23 decision, the three-judge circuit court panel dismissed PETA's claim, upholding a lower court ruling. The panel found "that the animal had constitutional standing but lacked statutory standing to claim copyright infringement of photographs known as the 'Monkey Selfies.'" According to the ruling, "the monkey lacked statutory standing because the Copyright Act does not expressly authorize animals to file copyright infringement suits."
Major success for criminal justice reforms in Philly. Recent reform in Philadelphia has cut the city's jail population by a third—with no increase in crime. In July 2015, there were 8,082 people imprisoned in Philly jails; last week, it was 5,394 people. Mayor Jim Kenney credits two changes in particular: bail reform and a new approach to drug-related offenses.
The city implemented an "early bail review" system after five days for those in jail with bonds of under $50,000, reports The Washington Post. "Kenney said 84 percent of those reviewed were released within five days, and more than 92 percent had shown up for their subsequent hearings."
A program to divert drug addicts to treatment rather than jail has also been successful. Since December, "no one who's been in the program has been rearrested," said the mayor at a press conference, promising to close one of the city's nearly century-old jails by 2020. "Reaching the point where we can shutter this facility once and for all, without needing to build a new prison, this is a milestone."
Feds crippling bankers with nonsensical marijuana policy. In the U.S., banks are supposed to file a report with the federal government anytime anyone deposits money "derived from illegal activity." As Brookings fellow Aaron Klein points out, this means that "banks must also file a report when a state government deposits tax revenue paid by marijuana firms into the state's bank account. The result is banks telling Uncle Sam that Oregon is a possible money launderer," which is absurd. From Klein:
Not only does it not make sense to consider a state government a money launderer, there is no reason for banks to be the ones reporting to the U.S. Treasury that Colorado, Washington, Oregon, Alaska, California, Massachusetts, Maine and Nevada are profiting from the sale of marijuana. Voters and state legislators did not exactly make it a secret this was their plan.

Going down this rabbit hole, regulations technically require banks to report every transaction that involves funds derived illegally. If Oregon did not create a separate account for its marijuana-related revenue, then every single check the state writes may require a separate suspicious activity report. There is no value added for banks to provide daily reports on each transaction made by state-licensed marijuana or cannabis firms. But imagine if you were a bank compliance officer, fearful of potential fines and criminal charges for failing to file, and looking over at Attorney General Jeff Sessions. Even if there is no logical reason to continually dump paperwork and filings in the government's lap, it may be the rational thing to do.

The result is bad news for everyone except the bad guys that these reports are meant to catch. As banks continue to file more suspicious activity reports federal law enforcement officials have more files to review. Federal investigators are looking for needles in the haystack, with banks continuing to dump more hay.
It's prom season, so you know what that means: it's time for my annual roundup of police involved "promposal" stories that are neither cute nor legal! https://t.co/7ZhautaiiQ pic.twitter.com/dnXRLqrbNC

— Lauren Krisai (@laurenkrisai) April 23, 2018
Looking Ahead: President Trump's travel ban on people from certain mostly majority-Muslim countries goes before the Supreme Court on Wednesday…. Rand Paul won't put up a fight about the confirmation of Mike Pompeo as Secretary of State.
Having received assurances from President Trump and Director Pompeo that he agrees with the President on these important issues, I have decided to support his nomination to be our next Secretary of State.

— Senator Rand Paul (@RandPaul) April 23, 2018