D.C. Government Thinks It Found the Real Problem With EPA Administrator Scott Pruitt's Sweetheart Condo Deal
The Scott Pruitt condo scandal is all about rent-seeking, but not in the way the D.C. city government seems to think.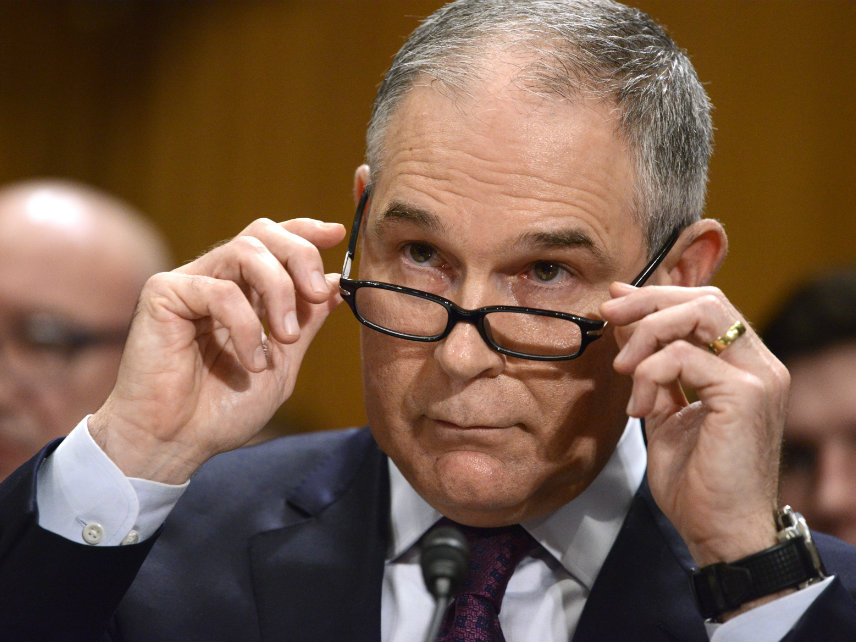 Environmental Protection Agency chief Scott Pruitt is the latest Trump official to be caught in a swirl of ethical questions. In this case, The Washington Post uncovered a sweetheart housing deal allowing Pruitt to pay $50 a night for a luxury condo near the U.S. Capitol.
The condo is owned by Vicki Hart, a prominent health care lobbyist who happens to be married to J. Steven Hart, an energy lobbyist. It's not difficult to see how that could create a potential conflict of interest for Pruitt, whose office has been directly lobbied by Steven Hart during the time that Pruitt has been paying well below market rates to stay at the condo. In all, Pruitt paid about $6,100 in rent between March 18 and September 1 of last year, and sometimes didn't even pay on time. That's absurdly low compared to what the Harts could have charged for the space, but it's a small price for having direct access to a high-ranking official with the power to grant favors.
When he's not staying in the $50 apartment, Pruitt frequently travels back to his home in Tulsa, Oklahoma, at taxpayer expense, and he's been known to take a rather large—by EPA administrator standards, at least—security entourage with him wherever he goes. Aside from all that, questions have been raised about Pruitt using public staff for private work, spending more than $40,000 to build a phone booth in his office, and giving out big pay raises to top aides without permission from the White House.
All in all, it seems appropriate for Pruitt to face scrutiny in the press, from his bosses in the Trump administration, and from ethics investigators at the EPA and in Congress.
But the D.C. city government wants a piece of the action too. On Thursday, the city's Department of Consumer and Regulatory Affairs hit the Harts with a citation for failing to have the proper permits to rent their condo, an offense that could carry a fine of up to $2,000—or, in more Biblical terms, 40 days and 40 nights of having Pruitt as a tenant. In the city's eyes, Vicki Hart's arrangement with Pruitt may violate rules governing short-term rentals like Airbnb.
This is surely nothing more than a minor sideshow in a story that already has plenty of legs, but the citation is notable for two reasons.
First, the idea that two lobbyists offering a sweetheart housing deal to a top government official would go through the necessary channels to get the proper permits is pretty funny. So is the idea that a $2,000 fine would deter this type of thing. The Harts could easily have charged double the rate Pruitt was paying—the average two-bedroom apartment in that neighborhood goes for about $3,000 per month—so it's safe to conclude that they weren't worried about making money with this lease.
But second, and more important, is the fact that while Pruitt's sweet Capitol Hill condo arrangement is far from being the typical short-term rental in Washington, D.C., the penalties are exactly that. A family in Shaw or a single mother in Anacostia who is trying to make ends meet by renting extra rooms via Airbnb or another short-term rental platform could face the same punishment being handed down against Vicki Hart. And that person wouldn't be able to laugh it off as a rounding error on a lobbying expense report.
Some D.C. officials are looking for new ways to limit the short-term rental market by limiting how many rooms can be rented in a single home and how many rentals a homeowner can make in a single year. They'll have real consequences on anyone trying to scrape out a living that way in the nation's capital.
No one except the bureaucrats at the Department of Consumer and Regulatory Affairs seriously believes that the problem with Pruitt's housing arrangement is the lack of a permit. We should apply that same logic to other situations, and ask whether it makes sense in any circumatance for the city government to require a permission slip for something an innocuous as letting someone sleep in your extra bedroom.