Trump Used an FBI Graduation Ceremony to Call for Greater Police Militarization
"We are allowing our local police to access surplus military equipment, something the previous administration for some reason refused to do," Trump says. Wrong!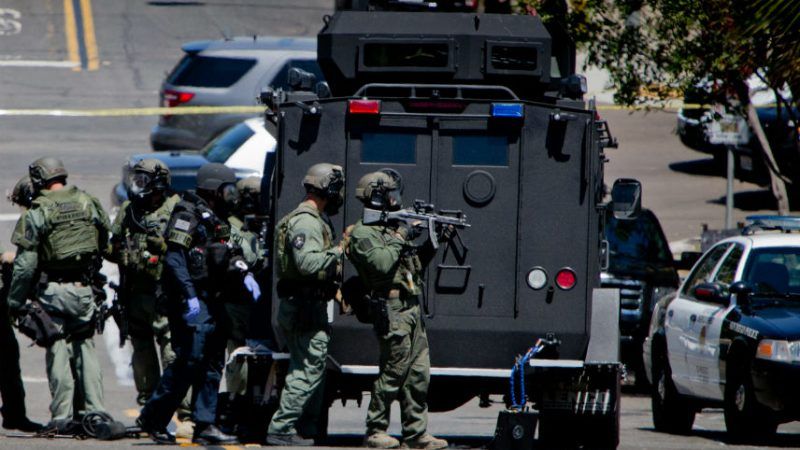 (picture alliance / Frank Duenzl/Newscom)
President Donald Trump spoke to local law enforcement officials who completed an 11-week FBI training program, using the occasion call for greater militarization of local police forces.
Trump praised the hard work and dedication of American police officers, thanking them for "doing their duty and doing it properly." Moments later, the president seemed to suggest proper policing includes making use of a great deal of military surplus gear and weaponry.
"We are allowing our local police to access surplus military equipment, something the previous administration for some reason refused to do," Trump said Friday. "Explain that one. Explain it to me, please. Never understood that one. Somebody out there can explain—anybody want to stand up and explain it, that'd be tough."
OK, we'll give it a go.
For starters, Trump's claim that the Obama administration refused to let local police get their hands on military-grade weapons is completely inaccurate. The Obama administration did place some limitations on those transfers following a series of violent confrontations between police and civilians in 2014 and 2015, but those restrictions amounted to tanks and rocket launchers.
In fact, "2014 and 2015 were peak years" for the transfer of military weapons to local police, according to a report published last year by Open The Books, a pro-transparency nonprofit.
The Department of Defense's 1033 program, which transfers military surplus gear to local police, has been around since 1990 and was greatly expanded during the Clinton administration. Since it's origins, more than $5.4 billion in equipment has been transferred from the Pentagon to state and local cops. Police pay nothing for the gear, except for shipping costs.
Since 9/11, America's war on terrorism has seen military budgets skyrocket and created more leftover weaponry and materiel for local law enforcement agencies to snarf up. According to Open The Books, the 1033 program has sent 625 mine-resistant vehicles, 471 helicopters, and 329 armored trucks and cars to local police. Cops have also gotten their hands on rifles, shotguns, sniper scopes, infrared cameras, bayonets and rocket-launchers from the Pentagon's surplus store.
The result? Tanks at Ohio State football games and patrolling Delaware beach towns. A Mother Jones investigation in 2015 found that "law enforcement agencies claimed they needed [mine resistant ambush protected vehicles] to safeguard trailer parks, shopping malls, theme parks, Halloween festivals, and Lambeau Field.
Trump talked about rescinding the Obama administration's mostly-useless restrictions on the 1033 program while campaigning for president. In August, he officially repealed them. The ACLU panned the decision and U.S. Sen. Rand Paul (R-Ky.), has introduced a bill to prevent the transfer of "offensive" military surplus like weapons while allowing police to access "defensive" gear like helmets and body armor.
"The militarization of our law enforcement is due to an unprecedented expansion of government power in this realm," Paul said in a statement in August. "It is one thing for federal officials to work with local authorities to reduce or solve crime, but it is another for them to subsidize militarization."
Oversight of the 1033 program during the Obama years was virtually nonexistent. The Government Accountability Office in July reported that it was able to obtain $1.2 million in military gear applying for it as a fictitious federal law enforcement agency.
Kansas City in not Kabul. Birmingham is not Baghdad. And turning police departments into something resembling a standing army does nothing to reduce tensions or engeder public trust. The "warrior" mentality—instilled by modern police training and reinforced with modern arms—escalates threats and increases the likelihood for violent outcomes. Witness the unnecessary and completely inexcusable death of Daniel Shaver at the hands of Mesa, Arizona, police officer Philip Mitchell Brailsford.
In his 20-minute graduation speech, Trump, also called for the death penalty for killing a police officer, accorded some of the loudest cheering. Trump has so far said nothing about Shaver's death or Brailsford's stunning acquittal of all charges.
"With me as your president, America's police will have a true friend and loyal champion in the White House. More loyal than anyone else can be," Trump told the crowd.
It was like a promise from Commander-in-Chief Santa Claus, coming on Chistmas Eve with his bag full of mortars and grenades.