Border Patrol Will Keep Checkpoints Open During Hurricane Harvey
Because the important thing during a hurricane is making sure evacuees aren't undocumented immigrants.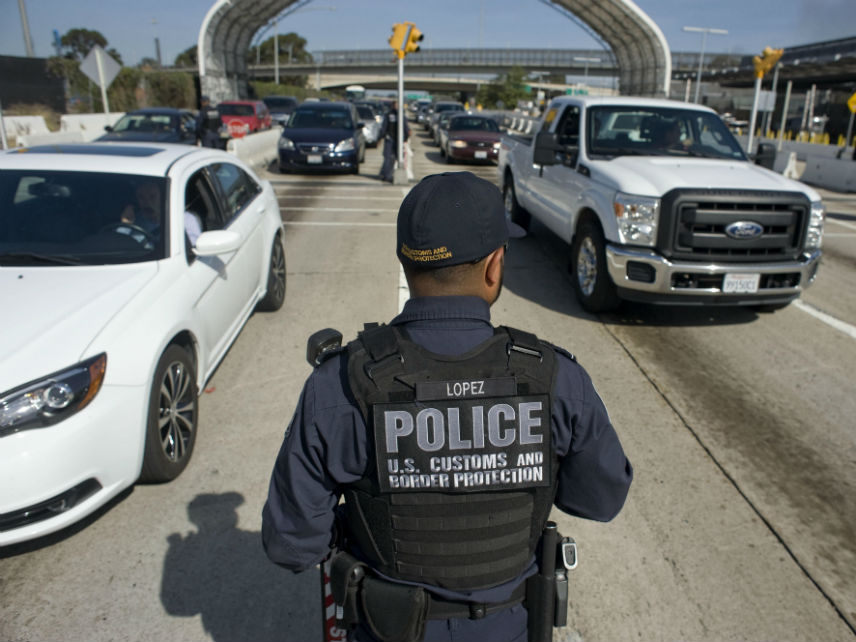 U.S. Customs and Border Protection (CBP) announced it will keep open interior border checkpoints in the path of Hurricane Harvey, drawing condemnation from civil liberties and immigration groups.
"Border Patrol checkpoints will not be closed unless there is a danger to the safety of the traveling public and our agents," CBP said in a statement to the Texas Tribune yesterday. "Border Patrol resources, including personnel and transportation, will be deployed on an as needed basis to augment the efforts and capabilities of local-response authorities."
Hurricane Harvey is expected to make landfall in Texas on late Friday or early Saturday as a category three storm.
CBP operates more than 150 interior checkpoints in border zones across the United States. Congress has granted CBP the power to operate with near impunity within 100 miles of the U.S. border. Two out of every three Americans live in border zones, which include, for instance, the entire state of Michigan.
While CBP agents are only supposed to detain travelers at checkpoints if they have probable cause of a suspected immigration violation, civil liberties groups have long claimed that the agency regularly oversteps its constitutional bounds.
And now, they say, the agency's decision to keep checkpoints open during the potentially deadly storm will put undocumented immigrants at risk. Lorella Praeli, the American Civil Liberties Union's director of immigration policy and campaigns, called Thursday's announcement "a disgusting move from the Border Patrol that breaks with past practices" and said that the CBP "should never keep checkpoints open during any natural disasters in the United States."
"As people seek refuge from hurricane Harvey, they are likely to have to go north or west of Texas and would have to go through a checkpoint," Praeli said in a statement Friday. "By keeping checkpoints open, the Border Patrol is putting undocumented people and mixed-status families at risk out of fear of deportations."
In a follow-up comment to Reason on Friday, a CBP spokesperson said:
U.S. Border Patrol checkpoints in the path of Hurricane Harvey in Texas will close as state highways close. These closures will occur in a manner that ensures the safety of the traveling public and our agents. Border Patrol checkpoints that are outside of the path of the hurricane will remain operational. CBP will remain vigilant against any effort by criminals to exploit disruptions caused by the storm.

U.S. Customs and Border Protection's (CBP) highest priorities are to promote life-saving and life-sustaining activities, the safe evacuation of people who are leaving the impacted area, the maintenance of public order, the prevention of the loss of property to the extent possible, and the speedy recovery of the region. Anyone in the path of this storm should follow instructions from their local officials and heed any warnings as this dangerous storm approaches.
The federal government has amped up its immigration enforcement under President Donald Trump. In one controversial instance, Immigration and Customs Enforcement agents apprehended a woman in a Texas courthouse, where she was seeking a restraining order against her allegedly abusive boyfriend. In New York, city and state officials, including prosecutors, have asked undercover immigration agents to stop staking out local courthouses, saying the practice discourages crime victims from coming forward.