Florida Man Jailed 180 Days for Not Giving Police His iPhone Password
He gave them a password, but police say it doesn't work.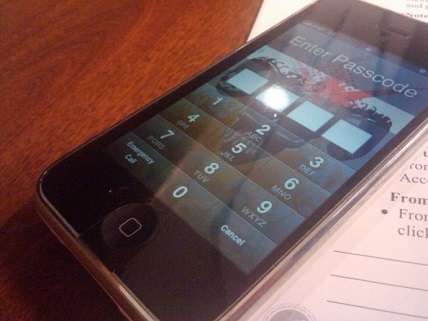 Yesterday a circuit court judge in Broward County, Florida, sent 41-year-old Christopher Wheeler to jail for 180 days because he wouldn't give police his iPhone password. Wheeler, who is charged with aggravated child abuse, insisted that he did give them his password. But the cops say the password he provided doesn't work, and that Wheeler therefore hasn't complied with their request. This, the judge decided, put him in contempt of court.
Meanwhile, another Florida circuit court judge—this one in Miami-Dade County—issued a rather different ruling in the case of a couple accused of extorting a social media celebrity over a sex tape. They would not be held in contempt of court for failing to share a phone's password, the judge decided, because there's no way to prove that they couldn't remember their password.
These are just the latest episodes in a broader debate about how Fifth Amendment rights apply to a relatively new technology. Do passwords count as "testimonial evidence," where protections against self-incrimination apply? Or is it more like a field sobriety test or a DNA swab?
Police in both cases were following a precedent set in Sarasota County last year, when the sheriff's department wanted to compel a man accused of video voyeurism to give them his iPhone passcode. A trial judge had ruled that this would violate the alleged voyeur's Fifth Amendment rights, declaring that the man could not be forced to surrender "the contents of his mind." But a state appeals court rejected that reasoning, citing the 1988 Supreme Court decision Doe vs. U.S. That case centered around whether the feds could force a suspect to sign consent forms permitting foreign banks to produce any account records that he may have. In Doe, the justices ruled that the government did have that power, since the forms did not require the defendant to confirm or deny the presence of the records. The Florida court decided that the iPhone case was analogous: The password to the phone and the contents of the phone were separate subjects.
The Sarasota case is now headed to the Florida Supreme Court. Wheeler is appealing his case too, and is expected to be allowed to post bond.