China Wants US to Negotiate With North Korea, but Maybe China Can Deal With It on Its Own
Secretary of State Rex Tillerson heads to Asia next week.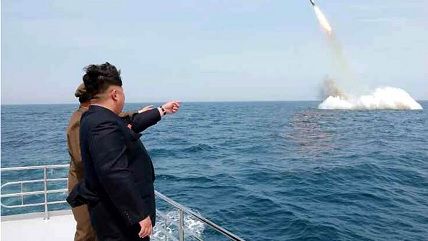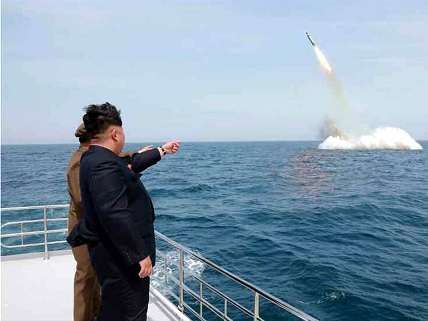 U.S. Ambassador to the United Nations Nikki Haley rejected calls by China's foreign minister to restart multilateral talks with North Korea, which has launched a series of missile tests in recent weeks. "We have to see some positive action taken by North Korea before we can ever take them seriously," Haley said, suggesting there was little reason to believe North Korean dictator Kim Jong Un was a "rational person."
China, which has taken it upon itself to act as a mediator on the North Korea nuclear issue, proposed that North Korea suspend its nuclear and missile programs while the U.S. and South Korea suspend joint military exercises. However, the U.S. posture on the Korean peninsula has not escalated, and North Korea's erratic decision-making process on missile tests doesn't track neatly with specific U.S. or South Korean actions.
Secretary of State Rex Tillerson is headed to South Korea, Japan, and China next week, and North Korea is expected to be on the agenda, although what happens will largely be defined by the State Department, the foreign ministries of South Korea, Japan, and China, and foreign media. Tillerson will not be accompanied by travelling press on his first trip overseas as secretary of state, a move CNN's Jake Tapper called "insulting to any American who is looking for anything but a state-run version of events" and to which DC bureau chiefs from various news organizations strenuously objected.
While as a candidate Donald Trump questioned alliances like that of the U.S. and South Korea, suggesting countries like it and Japan are not contributing enough to their own defenses and relying too much on United States defense spending, since assuming the presidency his administration has signaled its continued commitment to long-standing alliances and arrangements.
China's foreign minister, for example, also complained about the deployment of THAAD missile defenses in South Korea—the U.S. and South Korea agreed to the deployment of the missile defense system last July, and components began to arrive on the Korean peninsula earlier this week. The Lockheed-Martin-designed system may also be headed to Taiwan, according to local reports. As the pro-unification The Hankyoreh notes, China approaches the THAAD deployments and North Korea's nuclear ambitions as separate issues, but may use the former as a "credible alibi" for its failure to curtail the latter.
China has been pushing for a resumption of six party talks, between it, North Korea, South Korea, the U.S., Russia, and Japan, which last broke down in 2014. A similar multilateral model was used for the talks that yielded the Iran deal, which despite the Trump administration's anti-Iran rhetoric, the president has not withdrawn from.
Such executive agreements, subject to the whims of the particular president in power in any of the countries involved, are imperfect tools for détente, as continuing U.S.-Iranian tensions illustrate. Where Iran was a regional power, North Korea is not. It is largely a client state of China. South Korea has grown tremendously since the combat phase of the Korean War ended, yet U.S. military commitments to South Korea have not concomitantly shrunk. President Trump should not abandon the critical take he had toward America's entangling alliances around the world. China and ASEAN countries appear to be settling various disputes related to the South China Sea on their own and there's no reason to believe the problems on the Korean peninsula are not similarly resolvable. A managed disengagement by the Trump administration could spur regional cooperation on security issues, and would go a long way toward a more sober, realist foreign policy.