Bipartisan Group Wants Congressional War Votes on ISIS, Al-Qaeda, and Yemen
A letter from a bipartisan group of representatives calls on Paul Ryan to schedule votes on AUMF resolutions.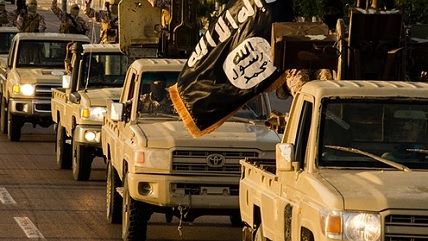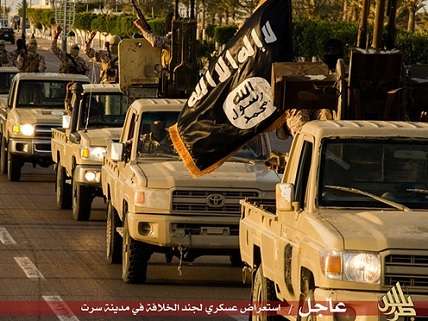 In a letter to House Speaker Paul Ryan, Rep. Jim McGovern (D-Mass.) and a group of 19 members of Congress from both parties, including Reps. Walter Jones (R-NC), Barbara Lee (D-Calif.), and Justin Amash (R-Mich.), urged an immediate vote on authorizations for the use of military force (AUMFs) against the Islamic State (ISIS) and Al-Qaeda, as well as a separate one for participation in Yemen's civil war.
Many of the representatives signing the letter led efforts to get an AUMF vote for the last four years, as they noted. "We believe that the failure of Congress to address these issues with a debate and vote on an AUMF during the final three years of the Obama Administration established a dangerous precedent for the presidency," McGovern wrote in the letter, "one where the President of the United States may deploy or threaten deployment of U.S. troops to any region for any purpose without the consent and explicit authorization of Congress."
The letter specifically expressed alarm about the Pentagon considering deploying ground troops to northern Syria to engage with ISIS. It also brought up the ground operation in Yemen last month, the first in that country since December 2014 and comments President Trump and Michael Flynn, the former national security advisor, made about "deploying U.S. troops in Yemen to confront Iranian forces." The state-controlled press in Yemen has accused the Houthi rebels who knocked the U.S.-backed Yemen government out of the capital of Aden of being backed by Iranians, a view the Trump administration appears to support. The letter says Trump and Flynn's comments "added urgency to the need for action on the part of the Congress."
"We urge you to immediately ask President Trump to send to Congress a request for an AUMF that addresses the fight against the Islamic State and al-Qaeda affiliates in Syria, Iraq, and the surrounding region; and a separate AUMF regarding deployment of U.S. troops in Yemen," McGovern wrote to Ryan. "If these are not immediately forthcoming, we ask that the leadership of the House bring before this body its own draft AUMFs for consideration, debate and a vote."
A number of bills in Congress have attempted unsuccessfully to sunset the 2001 authorization for the use of military force against associated forces responsible for the 9/11 terrorist attacks. McGovern has also tried unsuccessfully to attach amendments to other bills to prohibit U.S. forces in Iraq and Syria without a specific AUMF. President Obama insisted he wanted an AUMF for ISIS, but also that he did not need one for the U.S. to conduct military operations around the world. The Department of Justice has argued that the operations are covered under the 2001 AUMF—ISIS is a successor organization to an Al-Qaeda affiliate. ISIS and Al-Qaeda franchises and allies exist from Nigeria to the Philippines, providing the president wide latitude to commit U.S. military forces around the world.
The original 2001 AUMF was opposed by just one member of Congress, Lee, who warned at the time that the measure amounted to a blank check for open-ended war. There was a separate AUMF passed in 2002 for the U.S. invasion of Iraq, but none since then. A new AUMF would invite questions about what precisely a new AUMF would permit the U.S. to do in a war against ISIS or other terror groups around the Muslim world, and why the U.S. was doing it—President Obama and Congress preferred to avoid those questions. Obama became the first president in U.S. history to preside entirely during a time of war. Sen. Rand Paul (R-Ky.) suggested a Trump presidency could encourage Congress to reassert its war powers. Trump said in an O'Reilly interview last year he'd be open to asking Congress for an ISIS AUMF. He has not yet done so. McGovern's letter urges Ryan to ask the president to do that.
The McGovern letter was also co-signed by Reps. David Cicilline (D-R.I.), Tom Cole (R-Ok.), John Conyers (D-Mich.), Joe Crowley (D-N.Y.), Peter DeFazio (D-Ore.), John Garamendi (D-Calif.), Paul Gosar (R-Ariz.), Joe Kennedy (D-Mass.), Dan Kildee (D-Mich.), Raul Labrador (R-Idaho), John Lewis (D-Ga.), Thomas Massie (R-Ky.), Chellie Pingree (D-Maine), Peter Welch (D-Vt.), and Ted Yoho (R-Fla.).