No, Donald Trump Freezing Out a Reporter is Not the Biggest Threat to Freedom of the Press
The president-elect's hostility to critical media is dangerous, not least of which is due to the precedent set by the Obama administration.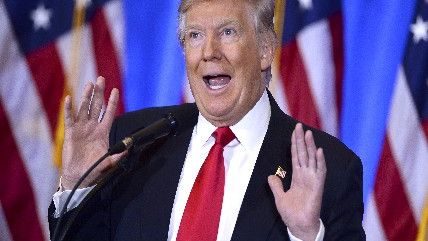 (FMB/Dennis Van Tine/Future Image/WENN/Newscom)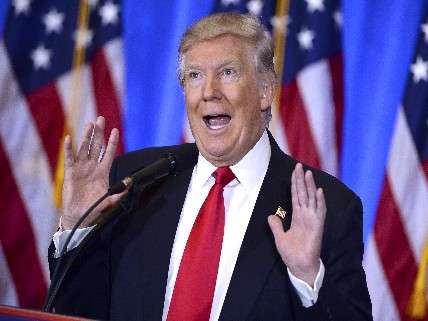 President-elect Donald Trump's typically frenetic press conference yesterday struck terror in the hearts of some liberal commentators for what they believed was a mortal threat to freedom of the press.
Trump has long demonstrated a dangerous hostility to press freedom through his calls for Congress to "open up" and expand upon existing libel laws, his history of suing journalists and media organizations critical of him and his work, his blacklisting of a number of news organizations from being credentialed for his campaign events, and his general lack of understanding of the broad protections provided by the First Amendment.
But in contrast, Trump's petulant refusal to answer a question posed to him by CNN's Jim Acosta—a day after the network aired a report about a classified dossier containing embarrassing information about Trump of questionable veracity—is relatively small potatoes.
Here's how the scene played out, via Mediaite:
With Trump looking to call on other reporters, Jim Acosta yelled out, "Since you are attacking us, can you give us a question?"

"Not you," Trump said. "Your organization is terrible!"

Acosta pressed on, "You are attacking our news organization, can you give us a chance to ask a question, sir?" Trump countered by telling him "don't be rude."

"I'm not going to give you a question," Trump responded. "I'm not going to give you a question. You are fake news!"

As those on stage by Trump clapped, Acosta retorted, "Now, Mr. President-elect, that's not appropriate!"
To be sure, openly freezing out a specific media organization at a presidential press conference is a disquieting precedent. That said, some of the reactions from the commentariat took the constitutional outrage volume to 11:
Playing favoritism and blacklisting ones he doesn't like is called THREATENING THE FREEDOM OF THE PRESS https://t.co/jL94057Sx4

— Sally Kohn (@sallykohn) January 11, 2017
RIP Freedom of the Press 1776-2017

— Connor Finnegan (@ConnorFinnegan) January 11, 2017
Trump refusing to take a question because the outlet wrote a negative story is the beginning of the end of freedom of press.

— Elizabeth Plank (@feministabulous) January 11, 2017
Some conservatives have pointed to the Obama administration's early posture toward Fox News, when in 2009, White House communications director Anita Dunn told The New York Times, "We're going to treat them the way we would treat an opponent," adding, "As they are undertaking a war against Barack Obama and the White House, we don't need to pretend that this is the way that legitimate news organizations behave."
It's important to note that when the Obama administration attempted to freeze Fox News out of a round of interviews with an administration official, a number of reporters from Fox's competitors—including then-ABC correspondent (now with CNN) Jake Tapper—came to the defense of what Tapper called "one of our sister organizations" and refused to go along with the administration's decision to exclude Fox from access.
However, of far greater concern than whether or not a president-elect calls on a specific reporter in a press conference is whether or not as president he would authorize spying on reporters as part of a crackdown on leaks, which Obama did and which the American Civil Liberties Union (ACLU) called an "unacceptable abuse of power."
New York Times reporter James Risen—who the Obama administration's Justice Department threatened with prison time if he did not reveal a source—recently wrote:
Under Obama, the Justice Department and the F.B.I. have spied on reporters by monitoring their phone records, labeled one journalist an unindicted co-conspirator in a criminal case for simply doing reporting and issued subpoenas to other reporters to try to force them to reveal their sources and testify in criminal cases.
Risen has also said about Obama's first attorney general, "Eric Holder has sent a message to dictators around the world that it is okay to crack down on the press and jail journalists," adding, "This is Eric Holder's true legacy on press freedom: 'There is no First Amendment 'reporter's privilege.'"
No less an authority on the First Amendment and press freedom than James C. Goodale—who represented the Times in the Pentagon Papers case—wrote in 2013 that the Obama administration effectively dismissed the First Amendment when it came to reporters covering national security issues. Goodale wrote, "President Obama will surely pass President Richard Nixon as the worst president ever on issues of national security and press freedom."
By using the executive branch to punish members of the media who inconvenienced them, the Obama administration has set a precedent that could very likely be emulated by an overtly-press hostile Trump administration.
For his part, Trump has already followed-up his press conference performance with tweets likening intelligence leaks to "Nazi Germany" and describing the publication of potentially embarrassing information about him as "illegal." Considering the awesome powers Trump is days away from inheriting, being rude to a reporter at a press conference is relatively inconsequential.
As Obama's presidency ends, the U.S. ranks 41st on Reporters Without Borders' Press Freedom Index—just behind South Africa and Melania Trump's native country Slovenia, and just ahead of Burkina Faso and Botswana.