Trump and McAuliffe Share a Lot
They both see politics as just another side of business.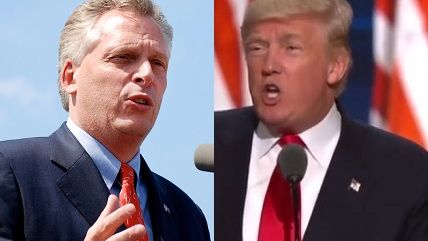 Republicans Corey Stewart, who is running for governor of Virginia, and Del. Glenn Davis Jr., who is running for lieutenant governor, are both positioning themselves as apostles of Donald Trump. Yet in some ways the president-elect's closest Virginia analog is a Democrat: Gov. Terry McAuliffe.
True, McAuliffe wouldn't say so. When he looks in the mirror, Trump is probably the last thing he sees. Trump has slammed the governor for restoring felons' voting rights and alleged (incorrectly) that McAuliffe funnelled money to the FBI official investigating Hillary Clinton's emails. In turn, McAuliffe has excoriated Trump's outreach to African-Americans and laughed at his claims of voter fraud.
And then there's the minor matter of Trump beating McAuliffe's good friend Hillary in the election. You might say the two men have their differences.
But they also have their similarities.
Last week Trump jawboned air-conditioner maker Carrier into reversing a plan to move jobs to Mexico. The deal gives Carrier $7 million in state tax breaks.
Trump also has warned companies thinking about offshoring that they will face steep tariffs if they try to ship goods to the U.S. (No word on what threats Trump might have made regarding the cancellation of Defense Department contracts with Carrier's parent company.) And he has dangled "incentives" to convince Apple to start making iPhones in the U.S.
This is nothing new. In fact, it's how Trump has run his own business. As a New York Times investigation reported in September, Trump "used his father's, and, later, his own, extensive political connections, and relied on a huge amount of assistance from the government and taxpayers in the form of tax breaks, grants and incentives to benefit the 15 buildings at the core of his Manhattan real estate empire."
Trump also once tried to use eminent domain to take a widow's home so he could bulldoze it and use the land for limousine parking. Because he's such a friend of the little guy, you see.
McAuliffe has not gone that far. But McAuliffe—another deal-maker—also sees politics as just another side of business. When he put his electric-car company, GreenTech Automotive, in Mississippi rather than Virginia, he said he did so because "I have to go where, obviously, they're going to put incentives."
Mississippi loaned GreenTech $5 million, and McAuliffe has been chummy with Republican Haley Barbour, who was governor of Mississippi until not long before GreenTech's production launch. GreenTech also tried to raise funds from Chinese investors by using a special immigration visa, called EB-5, eligible to foreigners who sink money into U.S. projects. The spearhead for that effort was Anthony Rodham, Hillary Clinton's brother. A federal investigation later found McAuliffe got special treatment from an official at the Department of Homeland Security.
As governor, McAuliffe has continued his enthusiasm for the political allocation of economic resources. He approved $7 million in incentive grants to bring German grocer Lidl to Virginia. He approved a $5 million grant to lure a Chinese paper company to Chesterfield. He approved another $4 million for a Dollar Tree expansion in Chesapeake.
Last year the McAuliffe administration ladled out $1.15 million to convince Hardywood Park Craft Brewery it should stay in central Virginia rather than build a new production facility in North Carolina—a nearly perfect analog to Trump's Carrier deal. And the governor gave $5 million to Stone Brewing for its brewery and restaurant in Richmond.
To be fair, McAuliffe hardly invented such behavior. In one 10-year period preceding his tenure, Virginia (under both Democratic and Republican governors) handed out more than $700 million to various projects. McAuliffe simply stepped on the gas: He passed out incentives so fast that he burned through nearly all the money in the Commonwealth Opportunity Fund in less than a year.
Sometimes the taxpayers have been burned, too. In one instance, the commonwealth handed over $1.4 million to Lindenburg Industries, which—supposedly—was a Chinese subsidiary that would create 349 jobs at "an industrial honeycomb manufacturing operation" in Appomattox. A press release from the governor's office boasted that the deal was "a direct result of the Governor's meeting with company officials in Beijing."
Just one small problem: It was all a scam. No factory was ever built—or even started. Eventually Virginia emailed China, asking for its money back.
In an embarrassing parallel, GreenTech Automotive—with which McAuliffe severed all ties shortly before taking office—has been a money-loser, producing only 25 cars last year and selling not a one. In August it missed a debt payment owed to Mississippi.
Granted, there's a huge difference between a malicious scam and a well-intentioned business plan that doesn't get off the ground. GreenTech is not the same as Lindenberg or—oh, Trump University, for instance. And unlike Trump, McAuliffe has not tried to coerce companies with threats of reprisals if they don't play ball.
Still, the two men mingle politics and business in much the same way. That is not a flattering reflection upon either of them.
This column originally appeared at the Richmond Times-Dispatch.