If Charter Schools Are 'Unregulated,' Why Is This Successful California School Facing a Shutdown?
Trump's choice of education secretary will prompt a fight over who has control.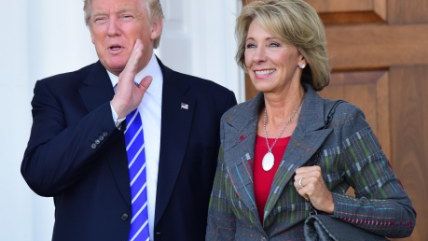 (Andy Katz/ZUMA Press/Newscom)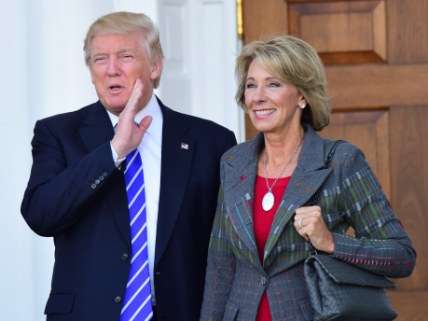 What exactly is to be done when a charter school appears to be extremely successful at teaching students, but also appears to be funneling spending toward friends and family of its founder?
For Chino Valley Unified School District in California, the decision was apparently to shut the school down, despite a crowd of parents begging them to keep the school open. On Monday the district's school board voted unanimously to reject the bid to renew the charter for Oxford Preparatory Academy.
Oxford Preparatory ranked as the top K-8th grade school in San Bernardino County according to state testing and was the highest-scoring charter school in the county. But it had been plagued by accusations that founder Sue Roche had set up a series of companies with friends and relatives to "launder" money to them in exchange for services so that she could profit from her school.
The school has since cut ties with Roche, but the superintendent declared that the school "cannot be saved, and should not be saved. It is forever tainted," according to the Inland Valley Daily Bulletin.
Without downplaying whatever sort of financial improprieties might have happened (Roche's lawyer denies misconduct), could anybody out there imagine that a school board would ever declare a public school "forever tainted" due to bad behavior by a principal and simply vote to shut it down—despite excellent test scores and despite parents begging for it to remain open? It would never happen.
It's both a strength and a weakness of charter schools: They're easier to close when they perform poorly, but the system is susceptible to manipulation by public school system administrators with an agenda. Charter schools often have to fight the local school district to open in the first place, and then they will have to fight the system every step of the way as powerful public school interests will keep trying to find reasons to shut them down. By the media accounts, the rest of the administration of Oxford did not what know what Roche was doing, so the idea that it's "forever tainted" now makes no sense. And that's particularly true given that whatever financial corruption might have been happening obviously did not interfere with the school's performance.
It's going to be more and more important to pay attention to stories like this given President-Elect Donald Trump's selection of Betsy DeVos as secretary of education. DeVos is a supporter of charter schools and school vouchers, so there's going to be a significant effort to paint school choice in the worst possible light, as though families and poor people are being preyed upon. Take a look at this Washington Post "worst-case scenario" analysis of what DeVos might do as education secretary that simply asserts that charter and private schools are "unregulated" in several spots. No doubt the upset parents at Oxford Preparatory wish that were the case.
Charter schools are, in fact, heavily regulated and face tremendous amounts of bureaucracy and oversight. The Oxford Prep example shows that, in reality, they are even more accountable to the government that the schools the government itself operates! To get another perspective of the challenges facing people who attempt to start charter schools, read this interview with Gloria Romero, a Democratic former state senator in California who just opened her own charter school this year. That she had to put her own credit at risk and mentions other charter schools having to take out short-term loans while the state drags its feet forking over the money (despite claims of profiteering, charter schools usually get less funding than their public school counterparts) serves as an interesting alternate explanation as to how family and friends end up involved in providing goods and services to charter schools.
As we see more attacks on charter schools, keep an eye out for weighted words like "unregulated" being deliberately tossed out to incorrectly describe how they operate. And also be very wary of vague coverage of test scores that don't account for the full picture, like an attempt to make Detroit's charters look like massive failures when that's not true at all. And above all, be wary of reporting on charter schools that completely ignores whether parents are satisfied with the educations their children are getting.
Read more from Reason and school choice here.