Trump To Be Next U.S. President, Republicans Retain House and Senate, Eight State Cannabis Measures Pass: A.M. Links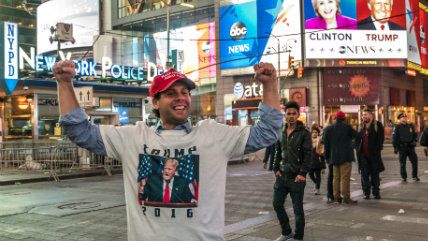 (Cordon Press/Sipa USA/Newscom)
Cordon Press/Sipa USA/Newscom

Donald Trump was elected president of the United States, with 276 electoral votes. He accepted in a speech delivered from Manhattan around 2:30 a.m. Wednesday morning, saying "for those who have chosen not to support me in the past, of which there were a few people, I'm reaching out to you for your guidance and your help, so that we can work together and unify our great country." Hillary Clinton seems to have won the popular vote.

Here's how financial markets and world leaders have been reacting.
Libertarian candidate Gary Johnson came out with around 3.3. percent of the vote.
Republicans will keep their majority in the U.S. House and Senate.
Two gubernatorial races are still being decided, with Republicans winning six governor's spots last night and Democrats winning four.
Eight of nine marijuana ballot initiatives passed yesterday, with California, Maine, Massachusetts, and Nevada approving and Arizona rejecting cannabis for recreational use, and Arkansas, Florida, Montana, and North Dakota approving or expanding medical marijuana access.
California Proposition 60, which would require condoms to be used in adult films, was defeated in California.
Sheriff Joe Arpaio was ousted in Arizona.
U.S. Reps. Justin Amash (R-Michigan) and Thomas Massie (R-Kentucky) and Sen. Rand Paul were all re-elected to Congress.
We're putting the band back together. #teamliberty pic.twitter.com/poRrR9K2vy

— Justin Amash (@justinamash) November 9, 2016
Follow us on Facebook and Twitter, and don't forget to sign up for Reason's daily updates for more content.