Trump and Clinton Meet For Second Debate, Libertarians Try to Get Mike Pence to Endorse Gary Johnson, Airstrike in Yemen Kills 140+ at Funeral: A.M. Links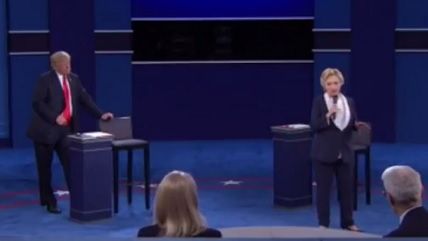 Local undecided voter


YouTube

Ken Bone won the second presidential debate, held in St. Louis last night. Donald Trump tried to sit Bill Clinton's sexual assault accusers in the family box but was overruled by the debate commission. 2008 presidential nominee John McCain was among a number of Republicans to withdraw their endorsement of Trump after the release on Friday of a tape of a lewd conversation with Access Hollywood's Billy Bush, who NBC suspended from Today yesterday. A Hillary Clinton foreign policy spokesperson tweeted that Trump should go fuck himself after Trump said at the debate that Captain Humayun Khan would have still been alive if Trump were president. The Libertarian National Committee urged Mike Pence in an open letter to drop out of the Republican ticket and endorse Gary Johnson.

Thousands protested in Yemen over a Saudi airstrike that killed at least 140 people at a funeral this weekend. Missiles shot from Yemen reportedly landed near a U.S. destroyer in international waters in the Red Sea.
Taiwan wants China to engage it in talks.
The Nobel Peace Prize was awarded to the Colombian president, Juan Manuel Santos, who said he would donate the prize money to victims of the FARC conflict.
At least 19 people in the U.S. have died in relation to Hurricane Matthew.
Samsung has suspended production of the Galaxy Note 7 after new reports of the device catching fire.