Gary Johnson Has More Daily Newspaper Endorsements than Donald Trump
North Carolina newspaper the second to go libertarian.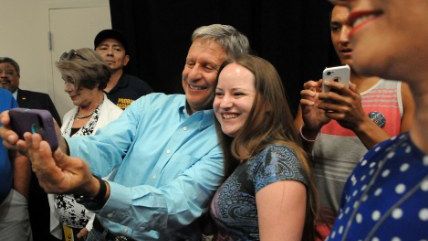 (Jim Thompson/ZUMA Press/Newscom)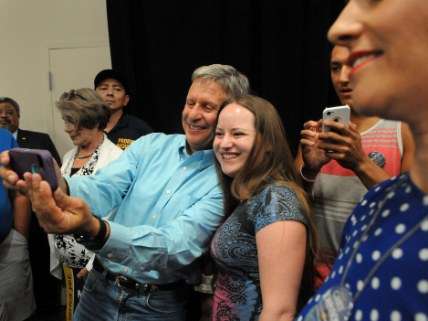 Libertarian Party presidential nominee Gary Johnson has racked up his second daily newspaper endorsement, two more than Donald Trump has received so far.
The editorial board the Winston-Salem Journal in North Carolina (a Berkshire Hathaway-owned newspaper with a daily circulation of 67,000), declared its support for Johnson over the weekend. The endorsement notes:
For months, we here at the Journal editorial board wrestled with this endorsement. For most of that time, we looked at Democratic candidate Hillary Clinton and Republican candidate Donald Trump. But as the weekly revelations ripped away any hopes we held for finding the "better angels of their nature," confirming our belief that neither is fit to be president of our still-great land of Lincoln, we began to look harder at Johnson. We refused to let the powerful party behind either Clinton or Trump push us into a bad choice simply because the parties could do no better.

We join many Americans in being sick of the status quo in American politics, particularly presidential politics, that has far drifted from the bedrock ideals of our fabulous Founders. On this day, by endorsing Gary Johnson, we issue a challenge to change that status quo.
The timing is accidentally interesting given the weekend scandal with Clinton's bout of walking pneumonia. It was yet another situation where the candidate and her inner circle made a situation worse by being so secretive about it. Yes, there was going to be criticism of Clinton's health and whether she is in good enough shape to be president. But by trying to hide the problem and failing, not only has the health debate grown louder, it has also folded in criticism of the Clinton's circle's constant secrecy. If it wasn't such a big deal (and it probably wasn't), why was she keeping it a secret? She was keeping it a secret because being honest about it would inspire additional criticism of her by her opponents and the media. That's a terrible reason for a candidate for president keeping things secret!
All of that and the editorial board's justifications for the endorsement matter because in 2012 the newspaper endorsed President Barack Obama's re-election. Clinton's campaign platform is a promise to carry on everything Obama has done or pushed for. The Journal turning away from Clinton says as much about perceptions of her credibility as a candidate as the Richmond Times-Dispatch in Virginia turning away from Donald Trump to endorse Johnson after decades of exclusively nominating the Republican nominee.
It's still very early in the nomination season. There's only been seven daily newspaper nominations so far, five for Clinton and two for Johnson. There are no daily endorsements for Trump yet, but I would imagine that his extremely combative—threatening, even—posture with the press plays a larger role than any of his stated positions.
The Journal notes that one of the reasons they're nominating Johnson so early is that they support the push to have Johnson included in the debates. Matt Welch has been keeping track of the polling results that would led to Johnson's inclusion in the debates. Right now, it's not looking so well.
While I'm very doubtful that newspaper endorsements themselves are going to lead to much, it's nevertheless important to note when media outlets that have been typical endorsers of whatever the establishment parties hand them start turning away.
But it's not unheard of and it's too soon to say whether this year represents an important new trend. Editor & Publisher keeps track of newspaper endorsement trends. In that pivotal 2000 presidential election, when Ralph Nader was on the ballot and getting a lot of attention, 21 newspapers endorsed third-party candidates rather than Al Gore or George W. Bush. In 1980, when independent John Anderson was running as an alternative to Jimmy Carter and Ronald Reagan, and Ed Clark and David Koch headed the Libertarian Party ticket, 43 daily newspapers endorsed third-party candidates.
But getting two out of the seven initial newspaper endorsements is no small feat. The Journal's justifications for endorsing Johnson are interesting because they don't agree with his position on marijuana legalization or on eliminating the Department of Education and Common Core, yet they find the other two candidates so unpleasant a possibility that they're willing to work past those differences.
Read the full endorsement here. Nick Gillespie analyzes the importance of Johnson landing media endorsements here. And this morning, the Los Angeles Times notes that polls have Clinton easily winning California, hardly a surprise. But when they delved into the demographics, they discovered that when presented an alternative to Trump or Clinton, younger voters jumped at it. Johnson got 21 percent of the vote with those under 25 and 17 percent of those between 25 and 34. He beat Trump in both age groups.
But the newspaper also notes that Johnson seemed to be pulling away more votes from Clinton than Trump. So if you noticed a lot of generally leftist or liberal blogs jumping on Johnson's Aleppo gaffe last week after ignoring him all this time, now you know why.