Gary Johnson Explains Views on Religious Freedom, Trump Makes French President Feel Pukey, Anti-Prostitution Prosecutor Pleads Guilty to Soliciting Sex: A.M. Links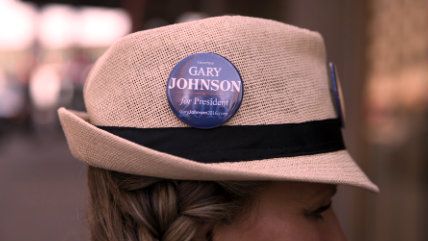 (Jeremy Hogan/Polaris/Newscom)
Jeremy Hogan/Polaris/Newscom

Libertarian presidential candidate Gary Johnson calls for a "balance between religious freedom and non-discrimination" in a Deseret News editorial today.

A federal judge has ruled that a suit against Trump University can proceed to trial. U.S. District Judge Gonzalo P. Curiel agreed that former students raised genuine concerns over whether Donald Trump had "knowingly participated in a scheme to defraud" them.
A lack of procedural guidance and accountability concerning police-worn body cameras could create a privacy and rights nightmare for Americans, civil-liberties groups warn.
Donald Trump's "excesses make you want to retch," opined French President Francois Hollande on Tuesday.
A coalition affiliated with the Black Lives Matter movement has released its first policy platform, which details six demands—including reparations for U.S. slavery—and around 40 policy recommendations.
A former Michigan prosecutor who led a loud crusade against prostitution in his county has plead guilty to soliciting prostitution and official misconduct.
Flossing may be overrated.
Follow us on Facebook and Twitter, and don't forget to sign up for Reason's daily updates for more content.