"The 3rd Party Candidate": Coming "Docu-Series" on Gary Johnson's 2016 Run
Filmmakers producing a real-time documentary on Libertarian Party nominee's race for White House.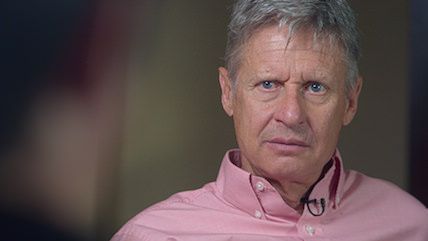 Filmmakers James Greenwood and Alec Asten have been following Libertarian Party presidential nominee Gary Johnson around for weeks as the former two-term governor of New Mexico battles to increase his visibility and vote total over his results in 2012.
Greenwood and Asten's goal is to create what they call a "docu-series" that will roll out in real time over the final three months of the 2016 election season. They're seeking funds via gofundme.com and hope to raise $75,000 to edit and produce the series.
We are creating the first exclusive behind the scenes access docuseries of a major presidential candidate's life and campaign released in real-time with the election….Please watch our intro video with over 1.9 million Facebook views and climbing as an example of our dedication to this project.

The 3rd Party Candidate, Libertarian Gov. Gary Johnson, officially announced his campaign for president in January, 2016. He will be the only other candidate on the ballot in all 50 states besides Donald Trump and Hillary Clinton, yet many Americans have never heard his name. We're here to correct that.
For more info on the project, go to gofundme or the project's Facebook page.
Here's the trailer—which has over 2 million views so far—from the Facebook page: