The Gary Johnson Debate Lawsuit Has Almost Run Out of Time
Federal judge still sitting on a motion to dismiss as time runs out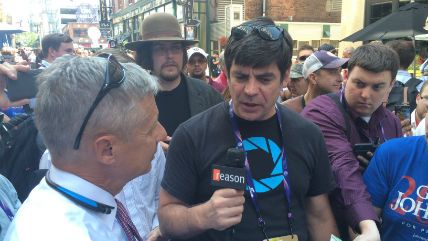 "So, what do you think the chances Gary gets 15 percent?"
This, and variations thereof, was the one question I heard over and over again at Wednesday night's Northeast Ohio Libertarian Party mixer with L.P. presidential nominee Gary Johnson, where 30 or so enthusiastic supporters drank local craft beer, and had Nick Gillespie take selfies of them with the candidate.
Johnson arrived in Cleveland late Tuesday night, has been swamped by media ever since (including an entertaining scrum with Gillespie and I just outside the Quicken Loan Arena this afternoon), and has continued to hammer away at his singular message since the campaign's inception: Get me into the presidential debates, and anything's possible.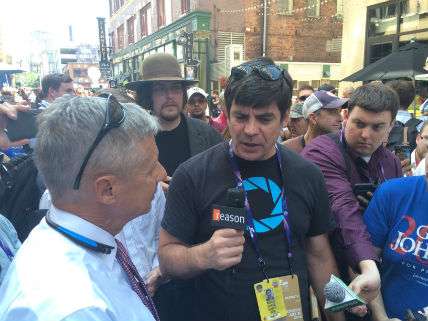 This has always been an uphill slog. Johnson's highest national poll result so far (last week, happily enough for him) has been 13 percent, but he needs an average of 15 percent across five as-yet-unnamed surveys to be determined later by the Democrat/Republican-controlled Commission on Presidential Debates before debate season begins in late September. The difference between Johnson's current average of around 9 percent and the qualifying 15 percent is deceptively small: He's got to nearly double his support. As Sen. Rand Paul (R-Ky.) indicated to a few fans of both politicians at Freedom Fest in Las Vegas last week (according to those fans), Johnson could be polling at 14.99 percent in those five polls, and the CPD would find a way to block him.
That's why the Libertarian and Green parties filed suit last September with U.S. District Court in Washington, D.C., seeking to get the 15 percent requirement waived on antitrust grounds, since the two existing market entrants have created an entity which has created rules designed specifically to blunt competition. In May, as Brian Doherty reported here, the L.P. lawyers filed an opposition to the defendants' motion to dismiss the case. It's now just two months before the first presidential debate is scheduled to be held, and Judge Rosemary Collyer still hasn't ruled on the motion.
"We don't have [another] a month to spare," Jim Gray, honorary chairman of the Gary Johnson-affiliated Our America Initiative (which is driving the lawsuit), told me last week at Freedom Fest. "We have to have this tried by August…because somebody's going to appeal it, so we're really running out of time."
Gray, a retired judge who was the Libertarian Party's vice presidential nominee in 2012, laments that "there isn't much you can do with a federal judge who decides that she's going to keep it on her desk for a while. You know, you can't shake her by the shoulders and say 'Hurry up!'"
Many activists close to Johnson have expressed concern privately to me that the campaign is not maximizing its efforts to pressure Judge Collyer. "I was seriously considering…writing a letter on my own to the judge, with copies to everybody, saying 'Come on, time is important, let's have this set for a hearing, have it set for a trial, and let's get this thing going,'" Gray said. "But I was talked out of it."
Why? Because "it's protocol that you only communicate through the attorneys; parties don't communicate with judges." When I pointed out that, for example, the O.J. Simpson trial contained not a small amount of communication with judges and through the press, Gray said "I have nothing to say."
Gray might not have much to say about the lawsuit's tactical strategy, but he's positively loquacious when it comes to its potential sweep. "It's the most important political litigation in the last 50 years," he said. "You know, Bush vs. Gore maybe not withstanding. But it will be a revolution to get additional voices before the marketplace, before the voters. Who will win? The voters. Who will lose? The established duopoly of the Republicans and Democrats. And if people would just understand that, they would be applauding and demanding that this thing be done."
The lawsuit seeks to establish as the qualifying standard for debate inclusion getting on enough state ballots to have a mathematical possibility of winning the election. And that's no small thing, Gray emphasized.
"You and I could not form a political party now and decide 'OK, you should run for president, I run for vice president, we should be part of the debates,'" he said. "Ballot access is a real formidable task. So if you're serious, then you should have your voices heard. That's the way it was when the League of Women Voters were in charge of debates, that's what the criteria was. They were frozen out, literally, by the Republicans and Democrats. And they left with the statement, We will not be part of the hoodwinking of America. Look it up, that was a public statement from the League of Women Voters, they said this was perpetrating a fraud upon the voters. And they were right."