Television Offers a Summer Crime Wave
Take the edge off the heat with some fun violence.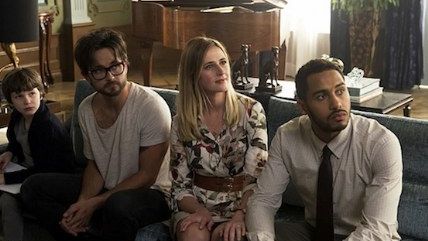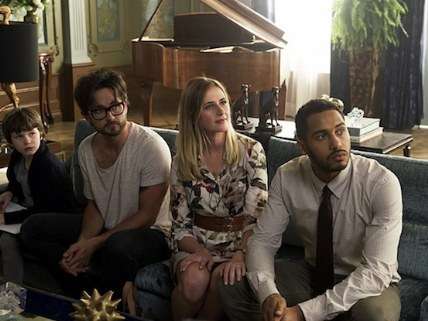 American Gothic. CBS. Wednesday, June 22, 10 p.m.
Queen of the South. USA. Thursday, June 23, 10 p.m.
In summer, a young studio executive's fancy turns to crime. At least that's the case this year. While the past few summers' TV schedules have been populated with space aliens and post-apocalyptic mutants, the networks are now testing the hypothesis that the fascination of vacation audiences with steaming viscera does not necessarily require that it be tossed around by extraterrestrials. Plain old narco-traffickers and serial killers will do.
Not coincidentally, this week's TV fare includes exactly that. CBS' American Gothic features a family discovering that it's not merely dysfunctional, but homicidal. And USA's Queen of the South is a sanguinary shattering of the glass ceiling in the cocaine business: a chick-lit version of Scarface.
The family in question in American Gothic (which is totally unrelated to the cult-hit series of the same name) is the Hawthornes, a collection of Boston bluebloods so wholesomely photogenic and accomplished that the construction-magnate dad, opening the door as everybody arrives for a family reunion, exclaims, "Did somebody order a Norman Rockwell painting?"
On closer inspection, however, this portrait looks a little more like—well, you know. Or even something by Goya.
Mayoral candidate Alison (Juliet Rylance, The Knick) is ruthlessly ambitious. Her syndicated-cartoonist brother Cam (Justin Chatwin, Shameless) is a maybe-recovering junkie with a kid (Gabriel Bateman) whose artistic bent runs to drawings of dismembered corpses. The only reason their jittery schoolteacher sister Kerry (Canadian TV actress Meghan Heffern) isn't on meds is that she's trying to get pregnant. And let's not mention reclusive eldest brother Garrett (Antony Starr), because nobody else does; he stormed off in a rage 14 years ago and hasn't been seen since. Even his photo has been removed from the wall.
What distinguishes all this domestic dysfunction from a Real Housewives franchise is the discovery, by a couple of family members puttering around in the garage during the reunion, of evidence suggesting that somebody in the household is linked to a Boston serial killer who disappeared—can you guess?—14 years ago. Everybody's a suspect, including mom (Virginia Madsen), the coldest fish this side of Mrs. Paul's, and dad (Jamey Sheridan, Arrow), seemingly amiable, but come on, when's the last time you saw a Hollywood construction-company owner who wasn't some kind of soulless Mafia bastard?
American Gothic is not going to redefine the concept of television. (Though it may cause you to inspect kid's kindergarten artwork a little more closely; is that red thing just a missed crayon stroke, or a red-hot poker being plunged into his teacher's eye?) But it is a chillingly enjoyable whodunnit for a lazy summer evening. The biggest danger is that the ratings are good and CBS tries to extend it past the 13 episodes scheduled for this summer. There's a reason Agatha Christie never tried to turn Murder on the Orient Express into a TV series.
I don't know if Arturo Pérez-Reverte, the Spanish novelist who wrote La Reina del Sur, had TV in mind when he was composing it. But his book went on to be one of the most monstrously successful Spanish-language telenovelas of all time, a giant hit not only throughout Latin America but even in such unlikely places as Hungary and Albania. (Its 2011 run in the United States brought in the largest audience in the Telemundo network's history.) Among its biggest fans was the Mexican drug lord El Chapo, whose flirty email correspondence with star Kate del Castillo has drawn poor reviews from Mexican cops.
Castillo isn't around for this American remake from Telemundo's corporate cousin USA. Instead, her rags-to-cocaine-riches role is filled by Brazilian actress Alice Braga (I Am Legend). She plays Teresa Mendoza, who starts out as the armpiece of a Mexican cartel pilot and winds up as the boss, dispelling, in the process, all the shamefully patriarchal thinking that women can't torture, murder, and oversample their own product as well as anybody with a Y chromosome. "I'm the new proof that the American dream is alive and well," she boasts in voiceover narration. "The trick is to stay alive long enough to enjoy the fruits of this labor."
Like those sentences, a lot of Queen of the South's dialogue is faux-noirishly over-arch. And its too-frequent, too-lush romantic scenes betray its novela roots. Much of the time, the show plays as an As the World Turns remake in which the cast has been issued Spanish accents and AK-47s.
But the action scenes, when the come, are surprisingly effective. And I look forward to a medical-drama spinoff based on Queen of the South's occasional forays into (alleged) Mexican folk remedies. If not for the damn AMA cartel, we'd have been able to buy tequila-and-scorpion-venom poultices long ago.
Fairness Doctrine addendum: Having mentioned Kate del Castillo's BFF El Chapo, it should be noted that Braga's family has its own notorious fan. Her aunt is Sonia Braga, the sexually adventurous wife of the 1976 Brazilian film Doña Flor and Her Two Husbands. Jimmy Carter was said to be quite smitten with her performance. Could she have triggered one of his most amusing gaffes?