Memorial Day Observed, White House Locked Down, Eric Holder Slightly Praises Snowden: P.M. Links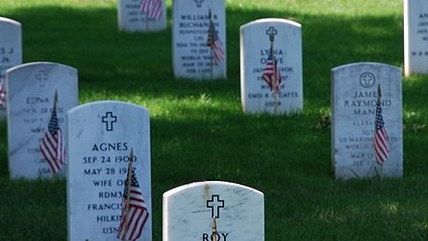 Public Domain

It's Memorial Day, and remembrance events are happening across the country as U.S. troops continue serving in countries like Iraq and Afghanistan.

Former Attorney General Eric Holder says Edward Snowden performed a "public service" by triggering debate about domestic surveillance, a public service Holder nevertheless believes should be punished.
The White House was put on partial lockdown over a suspicious package.
Verizon and striking workers have reached a tentative agreement that may end a work stoppage if approved.
Australia is planning to auction off millions of dollars worth of seized bitcoins that were grabbed in a bust of a guy who was selling illegal drugs online.
X-Men: Apocalypse won the holiday weekend box office, despite (spoiler!) being awful and making no sense. Alice Through the Looking Glass is the big box office loser. It also appears to be awful and makes no sense, so there you go.
Follow Reason on Twitter, and like us on Facebook. You can also get the top stories mailed to you—sign up here.