Donald Trump Calls Elizabeth Warren 'Pocahontas,' State Dept. Finds Hillary Clinton Broke Email Rules, Hodor Doorstoppers: P.M. Links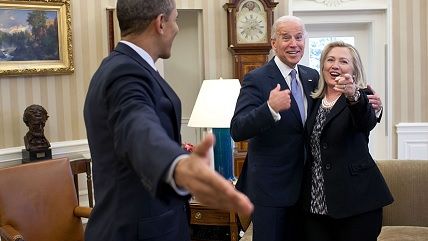 White House

Donald Trump responded to a speech by Sen. Elizabeth Warren (D-Mass.) criticizing his business record and populist rhetoric by calling her Pocahontas. The presumptive Republican nominee also suggested he might run for governor of New Mexico. New Mexico Gov. Susana Martinez (R) said she would not be "bullied" into endorsing Trump. Anti-Trump protesters clashed with Trump backers in Anaheim.

A State Department inspector general's report finds that Hillary Clinton violated federal laws and guidelines on email use while serving as secretary of state and did not do the bare minimum to try to comply within the law.
Eleven states are joining North Carolina and suing the Obama administration over federal transgender bathroom guidelines.
The House voted down the Kelsey Smith Act, which would have required telecoms to hand over location data on phones that place calls to law enforcement in emergency situations.
Authorities in Belgium have charged four alleged ISIS recruiters who may have been involved in the terrorist attack on Brussels in March.
You can get a Hodor doorstopper.