Cuomo Billion Dollar NY Economic Redevelopment Program Investigated for Corruption
Who knew money wielded by government was dangerous?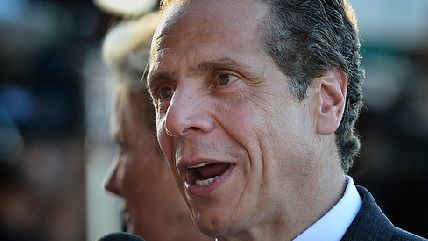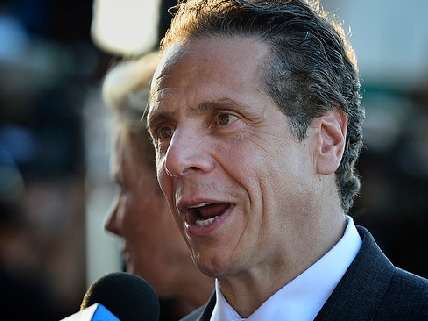 New York Gov. Andrew Cuomo (D) is urging caution by the media as a far-reaching federal investigation into a slush fund economic redevelopment program the state set up for the Buffalo area, "Buffalo Billion."
"Questions are normal, questions are natural," told reporters in Rochester yesterday as the federal probe got closer to Alain Kaloyeros, the president and CEO of SUNY Poly, which administers the Buffalo Billion program. "Get the facts, don't rush to judgement."
The investigation has engulfed a number of former top Cuomo aides, including one who the governor has called a "brother" and another that is a friend of the Cuomo family. "If there is something wrong, I want to know about it," Cuomo told reporters. "We will fully prosecute according to the law."
The federal investigation into Buffalo Billion, led by U.S. attorney Preet Bharara, is reportedly examining how funds were allocated. Buffalo Billion aimed to spend $1 billion, via state grants and tax breaks, on revitalizing the Buffalo area. The allegations surrounding Buffalo Billion involve allegedly undisclosed conflicts of interest and improper lobbying in the lucrative government spending political-industrial complex. Cuomo is no stranger to corporate welfare. The Empire State Development Corporation, which awarded contracts for Buffalo Billion, has reportedly been spending $800 an hour on outside counsel to gather documents for the investigation.
Cuomo has also launched his own investigation into the Buffalo Billion program, but insisted it didn't mean anything inappropriate had happened. "The US Attorney has questions about how the program is run," Cuomo said yesterday. "I want New Yorkers to know that if anyone has a question, we take it very seriously, and we're going to make sure every dollar is well spent."
Can there be such a thing with corporate welfare? By definition, corporate welfare sends taxpayers money to companies those taxpayers as consumers aren't patronizing. Actual cronies—as appears to be the case with Cuomo and his associates—aren't necessary for the practices of crony capitalism. Government acting as a source of money and as a rule maker that can stifle competition suffices.
Politicians like Cuomo talk a lot about money in politics but they don't mean the money politicians spend on programs like Buffalo Billion that enrich all kinds of government hangers-on, from the donors looking for a kickback to the low-level bureaucrats those government functions depends on. The kinds of campaign finance reforms Cuomo and his ideological fellow-travelers support could stifle attempts at blowing the whistle on wasteful, corrupt spending like Buffalo Billion while keeping the routes to government money open for exploitation by the political class.
"The program is doing great work for Buffalo," Cuomo said yesterday. "Let's not lose the overall perspective here." The state's lieutenant governor, Kathy Hochul, has been taking Cuomo's place more often in recent public events. Previous Bharara investigations have led to convictions of former New York Assembly Speaker Sheldon Silver (D-Manhattan) and former New York Senate majority leader, Dean Skelos (R-Long Island).