A.M. Links: GOP Debate Tonight, Hillary vs. Bernie, Snowden vs. FBI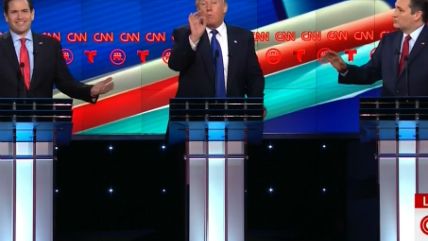 Marco Rubio now says he regrets making personal attacks on Donald Trump. "My kids were embarrassed by it, and if I had to do it again, I wouldn't," Rubio said.
Edward Snowden: "The FBI says Apple has the 'exclusive technical means' to unlock the phone. Respectfully, that's bullshit."
"The German authorities have obtained a list of the names of about 22,000 foreigners who have traveled to Syria to fight for the Islamic State, a trove of documents that officials say will help them prosecute fighters who return home and improve their efforts to prevent other Germans from joining the organization."
Follow us on Facebook and Twitter, and don't forget to sign up for Reason's daily updates for more content.