National Security vs. Trump, John Kasich Will Not Go Home, Florida Reforming Death Penalty Laws: P.M. Links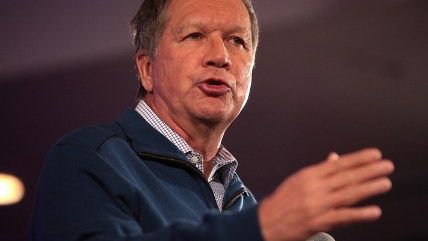 (Gage Skidmore / photo on flickr)
Credit: Gage Skidmore / photo on flickr

Republican national security leaders released an open letter declaring they could not support Donald Trump as the nominee. Trump dismissed it on Good Morning America this morning.

Gov. John Kasich of Ohio refuses to drop out of the race and insists he's going to win his home state and head to the convention where … I guess the underpants gnomes are involved at this point (or veep offers?). He pointed out that personal attacks against Donald Trump are not going to work.
The Texas state trooper who pulled over and arrested Sandra Bland has been formally fired. Bland became national news after a minor argument led to her arrest, and she was subsequently found hanged dead in her jail cell in what has been ruled a suicide.
Florida legislators are overhauling the state's death penalty regulations in order to get them declared constitutional again. The new bill would require at least 10 jurors out of 12 to favor execution.
Boston is addressing the competition between ride-sharing services and taxis not by trying to further regulate Uber and Lyft but by loosening the rules for taxi drivers. Good for them!
The nanny accused of beheading a 4-year-old in Moscow said it was revenge for Russia's involvement in strikes against Syria.
Dave Navarro tweeted that he's a libertarian.
Follow us on Facebook and Twitter, and don't forget to sign up for Reason's daily updates for more content.