Is Cuomo's Support for Charter Schools Waning?
The governor lays out a dismal 2016 education agenda.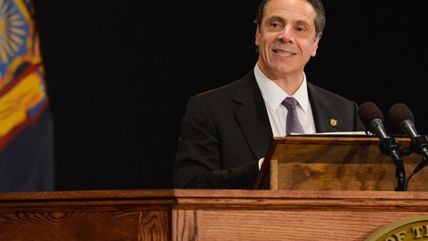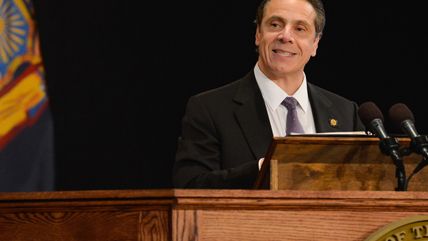 "I stand with you—you are not alone," New York State Governor Andrew Cuomo (D) shouted from the podium at a March 2014 charter school rally in Albany, addressing a crowd of about 11,000 students, parents, and teachers.
Cuomo's supportin 2014 was crucial in helping Success Academy, the city's largest and most successful charter network, overcome local opposition and proceed with its expansion plans. The governor also helped steer passage of a state bill requiring the city to find classroom space for charter schools, or pay rent on their behalf for outside facilities.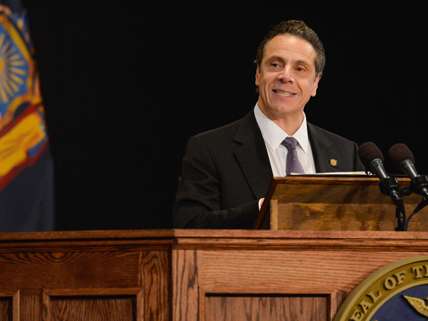 Now Cuomo's support for choice and accountability—one of the few bright spots in his policy agenda—may be waning. On Wednesday, he released a preliminary budget and delivered the State of the State address, announcing a $2.1 billion spending boost for traditional public schools.
New York State schools already lead the nation by spending $18,825 per pupil, as compared to the national average of $10,292.
Rather than closing failing schools and replacing them with more charters, the governor proposed giving them an extra $100 million to take on new responsibilities.
The budget does set aside money for a modest boost in funding for charters, but it also stipulates that state officials should investigate "anecdotal evidence of troubling practices" in the sector's enrollment practices. A 2015 study New York City's Independent Budget Office found that charter school students, including those with disabilities, "stay at their schools at a higher rate than students at nearby traditional public schools."
"[T]here was a lot to like in the governor's speech," said United Federation of Teachers President Michael Mulgrew, which pretty much says it all.
For more on New York's charter wars, watch "How Eva Moskowitz Outmuscled the Teachers Union:"