Movie Reviews: Our Brand Is Crisis and Burnt
Sandra Bullock gets dirty, Bradley Cooper plays top chef.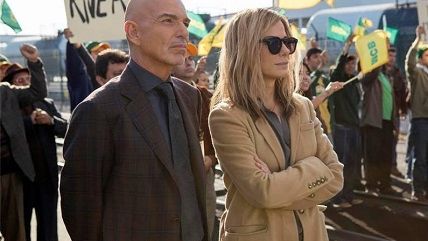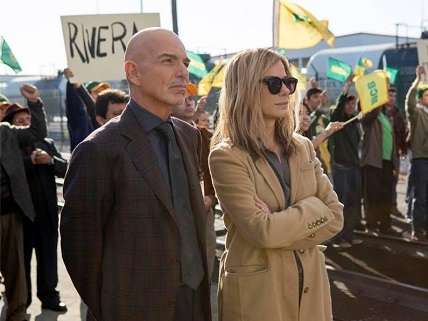 Political "consultants," who traffic in dirt-digging and ethically oblivious misdirection, are maybe one notch up from the politicians they serve, who so often traffic in outright lies. Thus you'd hope that Our Brand Is Crisis, a movie about a troupe of American consultants flown down to work their nasty magic on behalf of a Bolivian presidential candidate, would be a little more nasty itself. But despite some clever dirty tricks, and sharp comic performances by Sandra Bullock and Billy Bob Thornton, director David Gordon Green doesn't commit to the story's edgy amorality, and he finally caves in favor of the worst sort of Hollywood uplift.
Bullock's Jane Bodine is a onetime top consultant who's been sidelined for the past six years by addiction issues and mental problems. When approached to join a new project to boost the flagging Bolivian candidate, Castillo (Joaquim de Almeida), she's reluctant—until she's told that her old rival Pat Candy (Thornton) is strategizing for Castillo's opponent, a man-of-the-people populist named Rivera (Louis Arcella).
The movie is based on (or "suggested by," as the filmmakers put it) a 2005 documentary by Rachel Boynton that chronicled the 2002 electoral struggle between former Bolivian president Gonzalo Sánchez de Lozada, a neoliberal aiming for a comeback, and his socialist opponent Evo Morales. In that real-life campaign, the consultant in Sánchez's corner was veteran Democratic operative James Carville. Here, Bullock's character represents Carville—and yet Thornton, with his bald head and southland purr, appears to actually be playing him. This is a little distracting.
On arrival in La Paz with the rest of her new team—semi-idealistic Ben (an excellent Anthony Mackie), advertising expert Buckley (Scoot McNairy), and politically connected Nell (Ann Dowd)—Jane finds Castillo to be unimpressive. ("He's not a winner. I can smell a winner.") So she slumps around in boredom while her colleagues occupy themselves with focus groups and voter "outreach." (Buckley hires a camera crew to film Castillo petting a llama: "That's how you appeal to the working class," he says.) But when Castillo responds to a violent provocation by a street protester by punching the man out, Jane comes alive. They must market this guy as a fighter, ready to do battle for a country in "crisis."
She also decides that they must take the gloves off and go negative. To this end, Jane brings in a research wiz named LeBlanc (Zoe Kazan) to dig up buried embarrassments in Rivera's past—an idea that quickly occurs to the opposition as well. Soon, shocking charges are being lobbed: Castillo belongs to a cult! Rivera was tight with Nazi war criminal Klaus Barbie (once resident in Bolivia)! There's also a frantic bus chase along a narrow mountain road as the opposing consultants race to make it to the next remote village to propagandize the peasants (with Jane pushing her bare butt out a window to moon the opposition).
Much of this is a lot of fun. And there's a lovely scene with Jane and Candy—who might once have had a romantic connection—sitting outside their facing hotel rooms murmuring into telephones as they quietly discuss their past and their profession. ("People suck, don't they?" Candy says with a bittersweet smile.)
But Green's conventional sensibility keeps oozing through. When Castillo tells the high-pressure Jane that "I'm not just a puppet," the director cues up the old 5th Dimension hit "Puppet Man" on the soundtrack. And to reassure us that Jane isn't a hopeless weasel, he shows us a box of Kennedy memorabilia she has tucked away in her home. Will she see the light? Green's dismayingly cornball conclusion is the worst dirty trick in the movie.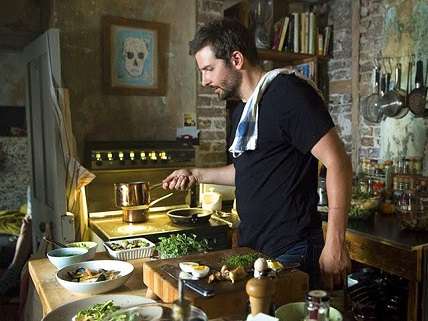 Burnt
Bradley Cooper already played punk-rock chef Anthony Bourdain in the very short-lived Fox-TV series Kitchen Confidential, which was based on Bourdain's bestselling memoir. Now he's essentially playing the man again in Burnt, a movie about an abrasive kitchen genius who has kicked his drug and alcohol habits and is seeking a new start in London, where he intends to renew his quest for the third Michelin star after which he has always lusted.
The parallels aren't exact: Bourdain has never pretended to have any interest in high-end fine dining (his New York eatery, Les Halles, was the most modest of French-style bistros). But we're supposed to find the tyrannical kitchen flip-outs of Cooper's character, Adam Jones, to be entertaining in a quasi-Bourdainian way, a requisite prelude to Adam's preordained redemption. Cooper's technical skill and unconquerable warmth keep the picture fairly interesting, and he's valuably assisted by Sienna Miller (who appeared with him in American Sniper), playing Adam's equally gifted colleague and eventual love interest. But director John Wells (August: Osage County), who has a long TV résumé, is content not to disturb the story's predictability—he and his writers offer few off-beat inventions of the sort that made last year's Jon Favreau movie, Chef, such a charming surprise.
Adam screwed up at a celebrated Paris restaurant and has been doing penance for the past two years shucking oysters in Louisiana. He has come to London to reassemble his old kitchen crew (among them Omar Sy and Riccardo Scamarcio) and set up shop in an undistinguished hotel restaurant overseen by another Parisian associate named Tony (Daniel Brühl, bringing carefully measured emotional detail to the role). Adam's personal demons (he screams at employees, throws plates, etc.) can be traced back to some sort of difficult childhood, apparently. But we always know his talent will save him. ("As a chef, he's like the Rolling Stones," one character tells us.)
Adam's journey to salvation begins when he hires an up-and-coming saucier named Helene (Miller), although she's appalled—at first!—by his abusive behavior. ("You're a piece of equipment," he shouts at her.) There's a nice scene in which these two meet at a Burger King, and Helene naturally launches into a rant about the food's overload of fat and salt and so forth—in other words, Adam points out, it's exactly like French peasant food, and who doesn't love that? We also learn how to spot mysterious Michelin restaurant critics when they pay a surprise visit. (They always come in twos and always order just a half bottle of wine, among other things.)
The actors are all better than you'd expect in a film of such dim ambition—although it would have been nice if Emma Thompson had been given something interesting to do in the vague role of Adam's therapist, and if there were more of Alicia Vikander, who makes two miniscule appearances as Adam's ex-girlfriend.
There's also a curious lack of focus on haute-cuisine kitchen techniques. We get quick montage shots of Adam filleting fish, roasting poultry, and mandolining cucumbers, but where's the finished product, the scrumptious grub? As foodie movies go, this is a one-star production.