In Virginia Firing Case, Principles Collide
St. Francis Home, an assisted-living facility, recently fired its director for being a gay man in a gay marriage.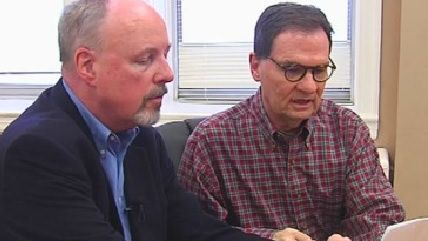 There is no shortage of incongruities in the matter of John Murphy vs. the Catholic Diocese of Richmond. Murphy recently was fired from his job as executive director of St. Francis Home, an assisted-living facility, because he's a gay man in a gay marriage.
"As a Catholic organization, we expect the employees of the diocese and its ministries to uphold and embody the consistent values and truths of the Catholic faith," the diocese explained in a statement, "including those preserving the sanctity of marriage."
Really? Because as Bill Harrison, executive director of Diversity Richmond, wrote in a column on GayRVA.com, that's pretty rich coming from an institution that spent decades "protecting child rapists" within its ranks.
Perhaps it's misguided to expect the Richmond Diocese to atone for the larger church's sins by condoning what it sees as another one. Or perhaps, after its own egregious behavior, the Catholic Church has eternally forfeited any right to condemn anyone for having a long-term committed relationship with, note it well, a consenting adult.
Either way, sacking Murphy creates a striking incongruity.
Yet it's not the only one.
The gay-rights organization Equality Virginia has started an online petition to protest Murphy's firing, and Murphy has filed a discrimination complaint with the EEOC. The petition concedes America's "long and important history of upholding religious freedom." But it insists "that right, which has preserved everyone's ability to worship and believe as they choose, should not be repurposed to allow individuals or institutions to impose harm on others."
It's not quite so simple as that. The diocese also is exercising another right the LGBT community should be careful about restricting: the right to freedom of association—to choose with whom you will socialize, consort, keep company . . . and marry. That right has been recognized for decades in cases such as NAACP v. Alabama, in which the Supreme Court upheld the right of NAACP members to "freely associate with others." Laws forbidding gay marriage trampled the fundamental right to "intimate association," as the Supreme Court repeatedly noted in its landmark gay-marriage case Obergefell v. Hodges. The raids on gay bars such as the famous Stonewall Inn, which galvanized the gay-rights movement, violated the right to less intimate forms of association.
Freedom of association works in two directions, just like, say, reproductive freedom. Compelled abortion violates reproductive freedom just as much as forbidding abortion does; compelling association is just as coercive as forbidding it. If gay-rights advocates, who for so long have championed freedom of association, suddenly have doubts now that the shoe is on the other foot, perhaps their doubts should be leavened with ambivalence.
Then there is the issue of diversity.
We are constantly reminded how crucial diversity is in every aspect of social life. Diversity "can drive innovation" (Harvard Business Review); it is "good for the boardroom" (Forbes) and "good for Hollywood's bottom line" (PBS) and "good for business and society" (The Washington Post) and so on. And we are constantly reminded about the need for more diversity everywhere: in the marijuana industry (NPR); in the Mormon church (MSN.com); in the Air Force leadership (USA Today); in the construction industry (the Philadelphia Tribune); in Hollywood (Ebony); even in the movie "Stonewall" (lots of folks).
Yet when he denounced Murphy's firing James Parrish, the executive director of Equality Virginia, insisted that "employees should be judged on their qualifications, experience and the job they do, nothing more, and nothing less." Many took exactly the same view three years ago when Republican legislators inexcusably refused to appoint a gay man, Tracy Thorne-Begland, to a judgeship. As one Virginia newspaper put it: "Ability, and Nothing More, Should Be What Matters."
If this is right, then the enthusiasm for diversity is at least partly misplaced. If nothing matters but qualifications, experience and performance, then gender, race, and other demographic markers do not matter. And if they do not matter, then why the endless insistence that they do? Why care at all that employment tests for the Chicago and New York Fire Departments had disparate impacts on black applicants? Why ask why "there are so few men in nursing"? Why give a second thought to the fact that Asian workers now make up half of all Silicon Valley tech employees? Such demographic questions are irrelevant. Aren't they?
To many of us, the Catholic Church's antipathy toward gays and lesbians is inscrutable. But inscrutable is not the same as impermissible, and those who try to make it so might end up ratifying principles that, in other circumstances, they might deeply regret.
This article originally appeared at the Richmond Times-Dispatch.