U.S. Knew Bombing Target Was Hospital, Hastert to Plead Guilty, Debt Ceiling Deadline Earlier: P.M. Links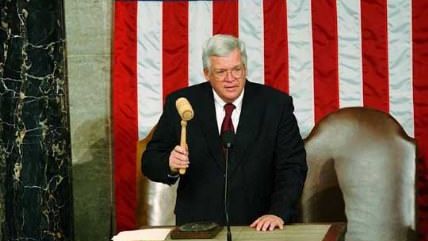 Some U.S. officials knew in advance that the target of the airstrike in Afghanistan earlier in the month was indeed a hospital. It is not clear whether the commanders who led the strike knew before the bombing, which killed 22 patients and staff. Doctors Without Borders, who operated the hospital, is calling for an international probe, rather than relying on an American-led investigation.

A new Edward Snowden-esque whistleblower has come forward and released classified documents that detail how the United States' drone assassination program, which has led to the deaths of hundreds of people who weren't actual targets, operates.
Former House Speaker Dennis Hastert has apparently agreed to plead guilty to giving somebody millions of dollars to cover up some wrongdoing (believed to be some sexual abuse of a high school student years ago).
Sen. Bernie Sanders is attempting to increase his post-debate profile by appearing on The Ellen Degeneres Show.
Treasury Secretary Jack Lew says the U.S. will stop being able to borrow money by November 3, two days earlier than he had previously calculated, if Congress doesn't increase the debt limit.
A federal judge has ordered Utah to keep funding Planned Parenthood while a lawsuit over the governor's attempt to halt it plays out.
Several campaigns are complaining about the rules (and apparently lack of information) about the next Republican debate on CNBC. A Donald Trump aide is threatening a boycott.
New at Reason
Are Obama and America to Blame for Syria's Disaster?
"ISIS: Inside the Army of Terror" co-author Michael Weiss on how Obama allowed a bad situation to get worse in Syria.
By Anthony L. Fisher
Follow us on Facebook and Twitter, and don't forget to sign up for Reason's daily updates for more content.