Obama Considering Expanding Gun Background Checks, 128 People Killed in Twin Suicide Blast in Turkey, Iran Test Fires Long-Range Missile: A.M. Links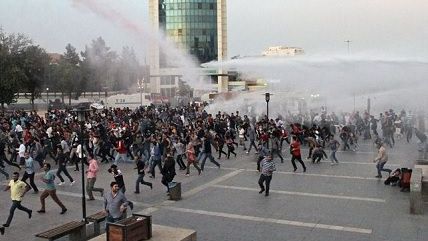 euronews

President Obama said the use by Hillary Clinton of a private e-mail server while she was his secretary of state was a "mistake" but that it didn't "endanger national security."

The president is also reportedly considering expanding background checks for gun purchases by changing federal definitions and bypassing Congress.
A twin bombing at a pro-Kurdish peace rally in Turkey on Saturday killed up to 128 people. The government suspects ISIS and says elections will continue as scheduled, while police clashed with protesters opposing Turkey's military campaign against Kurdish separatists.
State media in Iran report the country successfully test-fired a long-range ballistic missile.
Russian President Vladimir Putin says his country's military campaign in Syria is aimed at stabilizing the Assad government.
A new law in California prohibits public schools from using "Redskins" as a team name. Four high schools in the state will have to change their names by 2017.
New at Reason.com: