A.M. Links: Hillary Voted Least Trustworthy in New Poll, Literature Nobel Awarded, NATO Warns of Russia's 'Troubling Escalation' in Syria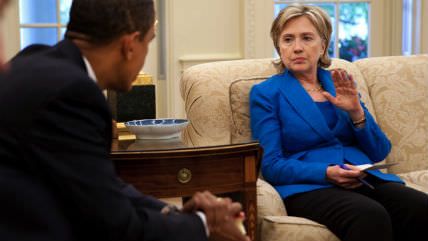 Credit: White House / Flickr.com

According to a new Quinnipiac University poll, swing-state voters find Hillary Clinton to be the least "honest and trustworthy" of all leading presidential candidates.
NATO Secretary General Jens Stoltenberg has warned of "a troubling escalation of Russian military activities" in Syria.
"The three Republicans vying for House speaker will face off Thursday in a vote that could signal whether a caucus beset by infighting and tactical confusion can come together once John Boehner leaves office."
Iran's Supreme Leader Ayatollah Ali Khamenei has banned Iran from engaging in any further negotiations with the United States.
New at Reason
Follow us on Facebook and Twitter, and don't forget to sign up for Reason's daily updates for more content.