Mass Shooting at Oregon College, Arson at Planned Parenthood, Hurricane Threatens East Coast: P.M. Links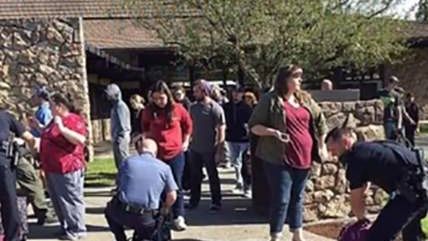 (Umpqua Community College)
Twitter

A shooter has killed several people at Umpqua Community College in Roseburg, Oregon. Details are still extremely vague. Reports indicate seven to 10 dead and 20 injured.

Russia is defending its airstrikes in Syria against accusations that they're just bombing whatever and purposefully helping President Bashar al-Assad.
Police say a small fire set in the lobby of a Planned Parenthood building in Thousand Oaks, California, was arson.
Black Lives Matter leaders say they will not attempt to disrupt this weekend's Twin City Marathon in Minneapolis. They will be provided space near the finish line to hold a rally, but have agreed not to go onto the course to try to stop racers from completing.
The bakers in Oregon ordered by the state to pay $135,000 to the lesbian couple they declined to sell a wedding cake are refusing to fork over the money while they attempt to appeal.
Hurricane Joaquin has strengthened as it approaches the eastern U.S. coast. Its trajectory is still uncertain.
New at Reason:
Black Soldiers Were the Real Heroes at San Juan Hill. And They Got No Credit. Author Jerry Tuccille on Teddy Roosevelt, "buffalo soldiers," and the legacy of racism in the military.By Nick Gillespie and Amanda Winkler
Follow us on Facebook and Twitter, and don't forget to sign up for Reason's daily updates for more content.