Mission: Impossible – Rogue Nation and The End of the Tour
Tom Cruise blockbusts again, Jason Segel gives the performance of his career as the late David Foster Wallace.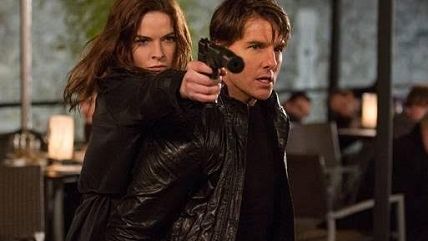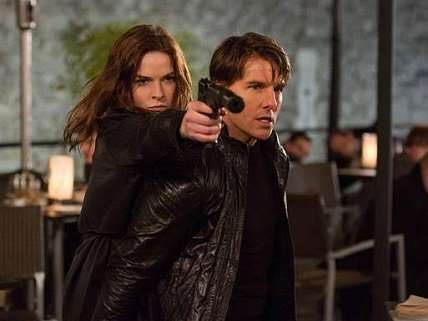 Like the four previous Mission: Impossible movies, Rogue Nation is a precision-tooled action gizmo made by talented people who still take professional pride in turning this sort of thing out. They know they have to deliver automotive mayhem, but they do it with fresh twists and camera angles. And they compensate for the usual silly plot by winking at the dialogue. ("He is the living manifestation of destiny!") IM5 has all the expensive uproar a fan could want in a summer blockbuster, although jaded consumers might wish there were a bit more to it than that.
As he has for the past two decades, Tom Cruise plays Ethan Hunt, top operative of the Impossible Missions Force, an American espionage team little-loved by its Washington overlords. CIA director Hunley (Alec Baldwin) thinks the IMF is an embarrassment (on its last mission the Kremlin blew up) and he decides to shut it down. Ethan is out in the field when he's ordered to come in from the cold, and he refuses. He's on the trail of a new world-threatening outfit called The Syndicate, an international gang of rogue intelligence agents. The Syndicate is led by ruthless Solomon Lane (Sean Harris), a character who resembles an albino rodent and speaks in a raspy wheeze that suggests severe sinus trauma. Ethan is determined to take Lane out, and he's secretly supported in this self-assigned mission by IMF team leader William Brandt (Jeremy Renner) and tech-wiz colleagues Benji Dunn (Simon Pegg) and Luther Stickell (Ving Rhames).
That's pretty much it. The movie is once again draped upon the bones of many old Bond films, hopping around the globe from London to Vienna to Casablanca. Writer-director Christopher McQuarrie, in his fourth collaboration with Cruise, takes a blithe approach to clarifying the plot (everybody's after a digital file of bad guys and financial transactions, or something). Instead, as usual in this franchise, the focus is almost entirely on action—hair-raising practical stunts fearlessly performed by Cruise himself. The movie begins with a sequence, already plundered for promotional purposes, in which we see the star running along the wing of a taxiing cargo plane and then holding on for dear life as it lifts up off the runway. There's a rousing slugfest in the rigging high above the stage at the Vienna State Opera House (Turandot continues below as if nothing were going on). And in a scene that's difficult to describe, Cruise plunges down into a vast water-filled cistern, where he must hold his breath for three minutes while dodging a wall-sweeping mechanical arm and searching for the aforementioned digital McGuffin.
When he's not leaping off high rooftops, wheeling around on motorcycles, and cold-cocking villains, Cruise reminds us what a charming performer he can be, mostly in his scenes with the amusingly monikered Ilsa Faust (Swedish actress Rebecca Ferguson), a secret agent of ambiguous loyalties who's equally adept with knives and bikinis. The movie starts running out of steam as it approaches (and then exceeds) the two-hour mark. The action becomes repetitious, and the story, being basically a cartoon, can't really compel our attention beyond a certain point. These might be problems in a more sophisticated film—one of the Bournes, say. In this case, though, it's hard to imagine complaints being widespread.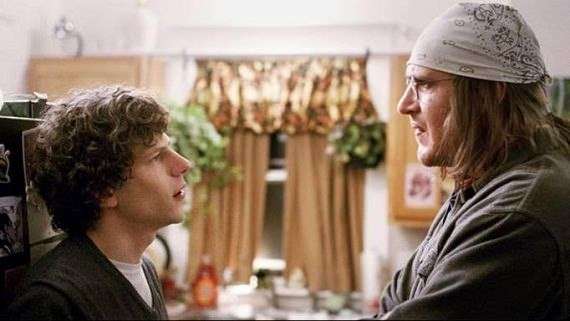 The End of the Tour
In 1996, Rolling Stone writer David Lipsky joined David Foster Wallace for the last five days of a promotional tour in support of his new novel, Infinite Jest, a book that was already stirring wild acclaim. Lipsky's profile never made it to print (the magazine had scheduling problems), but 12 years later, after Wallace committed suicide, Lipsky dug out his old interview tapes and turned them into a book called Although of Course You End Up Becoming Yourself, which was greeted with considerable acclaim of its own. Now, director James Ponsoldt (The Spectacular Now) and screenwriter Donald Margulies, a Pulitzer-winning playwright, have turned Lipsky's road-trip chronicle into a movie of gripping revelation and uncommon radiance. It also features a starring performance by Jason Segel, playing Wallace, that will surely transform this actor's career.
You needn't be an admirer of Wallace's humongous novel, which weighs in at more than 1000 pages, to be transfixed by the movie. I've given up trying to find my way into the book, but was still fascinated by the movie's subtle examination of the writing life, with its festering issues of ambition and envy and its fears of both fame and failure.
Jesse Eisenberg, minimally skittish here, plays Lipsky as a young man in awe of Wallace's talent, but hardly a pushover—he's just published a novel of his own, called The Art Fair. Arriving in snowy Bloomington, Illinois, he finds Wallace waiting for him outside the drab suburban house where he lives with his two dogs and as much junk food as he can keep in stock. Segel's Wallace, with his flannel shirts, baggy pants and trademark bandanna (not an affectation, he insists, "more of a foible"), is sweet and solicitous. He's wary of laying out his life for a journalist whose job will be to shape it for pop-culture consumption ("I don't want to appear in Rolling Stone as someone who wants to appear in Rolling Stone"), but he knows how the game is played. "They gonna send Annie Leibovitz to take pictures?" he asks.
Lipsky's reverence for Wallace's work is sincere (although clouded by suspicion that his girlfriend might think it superior to his own writing). Back in New York, however, his Rolling Stone editor (Ron Livingston) has more pointed interests—he wants the dirt on Wallace's rumored heroin addiction. "You've got to press him," the editor says, checking in by phone. "You're not his best buddy, you're a reporter." Lipsky is resistant, but he's a pro. On a visit to Wallace's bathroom he dutifully notes the contents of its medicine cabinet. Later, while Wallace is briefly absent, he walks through the house murmuring into his cassette recorder, logging the man's possessions. He also confronts Wallace about the depressive breakdown he suffered at Harvard a few years earlier. The novelist wishes he didn't have to talk about this, but he's too nice a guy to clam up on his sympathetic visitor. "I knew if anybody was gonna fuck up a suicide attempt," he says, "it was me."
Out on the road, traveling to Minneapolis by car and plane, Lipsky watches Wallace signing books and we can feel him wondering what it might be like to achieve this level of renown. He keeps his tape recorder running, and captures a stream of illuminations. "My primary addiction is television," Wallace says, predicting that with the rise of home-video porn, "It's gonna get more and more pleasurable to sit alone." He's excited about making a pit stop at McDonald's, and during a bit of downtime he opts for a visit to the Mall of America. "I treasure my regular-guyness," he says, as he senses it slipping away.
It's impossible to say how true-to-life Segel's portrayal of Wallace is. (The writer's estate says he would have hated the idea of a movie about him, and condemned this one while it was being made.) But Segel, in a performance of masterfully sustained warmth and insight, gives an entirely convincing account of a writer who's heavily burdened by his gift and wondering, in dark moments, how to get out from under it. Faced with Lipsky's forthright admiration, he says, "I'm not so sure you'd wanna be me."