ISIS Launches Attacks in Egypt's Sinai, FBI Says Fire at S.C. Church Likely Caused by Lightning, No Star Trek Where Star Trek's Boldly Gone Before: P.M. Links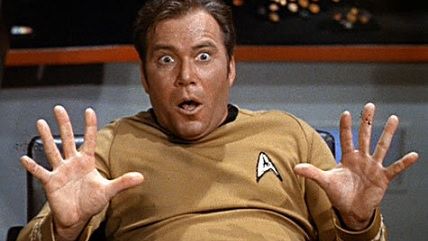 "Star Trek"

The ISIS affiliate in Egypt launched a coordinated attack on multiple checkpoints in the Sinai Peninsula in which more than 50 Egyptian soldiers were killed.

The presidential campaign of Hillary Clinton says it expects to have raised $45 million this quarter. Meanwhile, Jeb Bush has released a list of donors to his educational foundation, which raised $46 million between its founding in 2007 and the end of last year.
Brian Doherty has the latest news on Defense Distributed's lawsuit against the State Department over "munitions export controls" the lawsuit asserts violate the First and Second Amendment.
A fire at a predominantly black church in South Carolina was likely caused by lightning, according to the FBI, which is working with the National Weather Service.
The surviving New York prison escapee says he and his partner conducted a "dry run" of their prison break, but found themselves at a manhole that was too close to residential homes. They chose a manhole just a block from the prison instead.
Why is there no new Star Trek on television?
Follow Reason on Twitter, and like us on Facebook. You can also get the top stories mailed to you—sign up here.