A.M. Links: SCOTUS Decisions Coming Today, Bible Study Resumes at Charleston Church Where 9 Were Killed, Second Prison Worker Arrested in Connection With Prison Break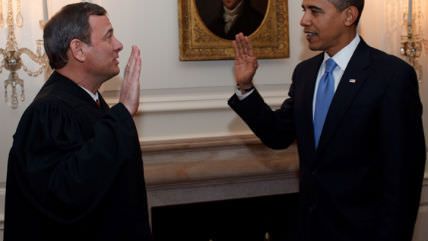 Credit: Whitehouse.gov

The U.S. Supreme Court will issue one or more decisions today at 10am ET. The justices still have major opinions to release on Obamacare, gay marriage, death penalty drugs, EPA regulatory power, and more.
"Just one week after nine people were gunned down at Emanuel African Methodist Episcopal in Charleston, worshippers returned to the historic black church to pick up where the victims left off."
A second prison employee has been arrested in connection with the escape of two inmates from the Clinton Correctional Facility in Dannemora, New York. Prison guard Gene Palmer is accused of providing power tools to the inmates.
Boston Marathon bomber Dzhokhar Tsarnaev gave a statement yesterday apologizing for his actions. "If there is any lingering doubt, let there be no more. I did it, along with my brother," Tsarnaev said.
Follow Reason on Twitter, and like us on Facebook. You can also get the top stories mailed to you—sign up here.