'Georgetown Will Need to Step In' If Students Don't Agree to Destroy Video Footage of Sommers Event
Footage includes protesters who did not consent to be recorded, admin says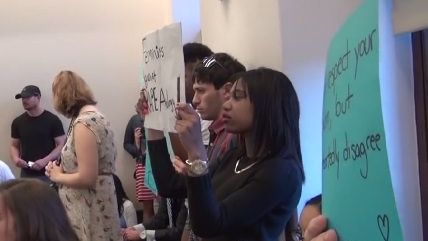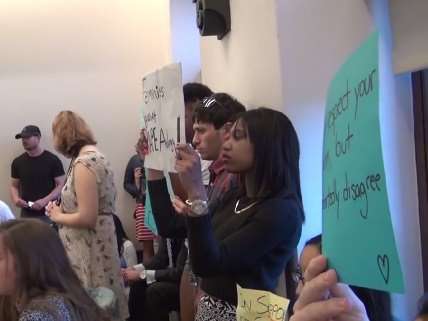 A Georgetown University administrator has a deeply troubling message for the campus's College Republicans: scrub video footage of the recent Christina Hoff Sommers talk, or else.
The hour-long video shows Sommers—a resident scholar at the American Enterprise Institute and individualist-feminist—giving her classically liberal take on gender issues while several left-leaning students hold signs accusing her of being a rape apologist.
According to Lauren Gagliardi, an assistant director of student services at Georgetown, the protesters did not consent to appear on camera, and so the College Republicans and the Clare Boothe Luce Policy Institute (which sponsored Sommers' talk) have a responsibility to edit them out of the video. In an email to the group obtained by The Washington Examiner and published at Legal Insurrection, Gagliardi promised consequences if her demand was not met swiftly:
What was the response from Clare Boothe Luce about the video? I see that is still up online. Please let me know asap as an edited version needs to be released without students who did not give permission to be taped.

If they are unwilling or unresponsive to the request, Georgetown will need to step in. Let me know!
As a private university, Georgetown administrators might theoretically have the right to make ridiculous demands of student and punish them for not complying. But that doesn't mean they should. And while it makes sense to respect the privacy of other students, no one attending the Sommers talk—a public lecture—as a protester should have reasonably expected to remain anonymous. As Laurel Conrad wrote at LI:
But it stretches credulity that Georgetown and its students would not understand that the lecture was a public event. The video camera was in plain view, and audience members themselves appear to be taking video and photos. It could not shock any student that he or she was on camera.
Still, it's hardly surprising that a university would decide its students deserve protection from the consequences of their actions.
More from Reason on students triggered by Sommers here.