How Do You Like Them Non-Browning Apples, and Potatoes Too?
We don't, say the bioluddites over at Friends of the Earth and Consumers Union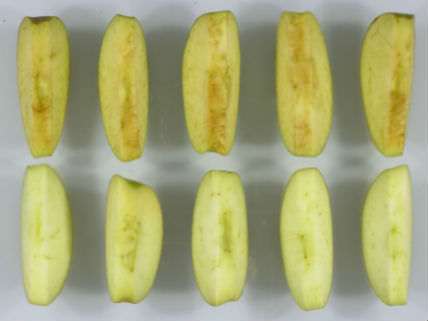 Last week the U.S. Food and Drug Administration approved Granny Smith and Golden Delicious apples that have been genetically improved by Okanagan Specialty Fruits such that they do not brown when they are cut. Also last week, the agency gave the nod to six varieties of potatoes genetically enhanced by the J.R. Simplot Company to resist black spot bruises and to produce less acrylamide when they are fried. In both cases, researchers used RNAi technology to silence genes that produce substances that cause browning.
FDA's press release stated:
Foods derived from genetically engineered plants must meet the same legal standards, including safety standards, as foods derived from traditional plant breeding methods. To help developers of foods derived from genetically engineered plants comply with their obligations under the Federal Food, Drug, and Cosmetic Act and FDA regulations, the FDA encourages them to participate in a voluntary consultation process with the agency prior to commercial distribution.

As part of its consultation process, both Okanagan, of British Columbia, Canada, and Simplot, of Boise, Idaho, submitted to the FDA a summary of their safety and nutritional assessments.

The consultation process includes a review of information provided by a company about the nature of the molecular changes and the nutritional composition of the food compared to traditionally bred varieties," said Dennis Keefe, Ph.D., director of the FDA's Office of Food Additive Safety. "This case-by-case safety evaluation ensures that food safety issues are resolved prior to commercial distribution."
Naturally, the usual members of the bioluddite claque such as Friends of the Earth and the Consumers Union oppose both products and are urging restaurants, food processors, and consumers to boycott them. FOE claims that both MacDonald'a and Gerber have already agreed not to take the apples.
I asked Okanagan if I could buy some apples to taste-test earlier this year, but was told that the company had sold out. The apples will be available in the fall, so I'll let you know then.