A.M. Links: One Charlie Hebdo Suspect Surrenders, Two Others Still at Large, FBI Blames North Korea for Sony Hack, Tail of AirAsia 8501 Found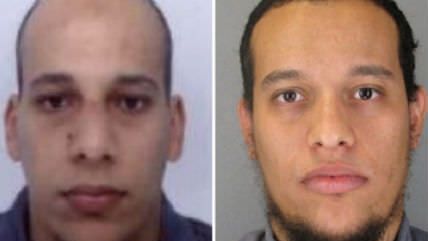 French Police

One suspect in yesterday's terrorist attack on French magazine Charlie Hebdo, which killed 12, has reportedly surrendered to French police. Two other suspects, the brothers Said Kouachi and Cherif Kouachi, remain at large.
In defiance of yesterday's attack, Charlie Hebdo will publish a new issue next week with a print run of 1 million copies. "It's very hard," columnist Patrick Pelloux told Agence France-Presse. "We are all suffering, with grief, with fear, but we will do it anyway because stupidity will not win."
Speaking with "very high confidence," FBI Director James Comey has stated that North Korea was definitely behind the Sony hack.
Cleveland officials have released a new video with extended footage showing the November 2014 fatal police shooting of 12-year-old Tamir Rice.
Follow Reason on Twitter, and like us on Facebook. You can also get the top stories mailed to you—sign up here.