UPDATE: Three Suspects in Charlie Hebdo Shooting Identified, One May Have Surrendered Himself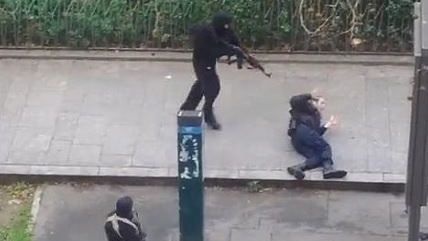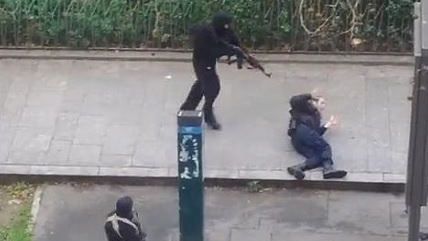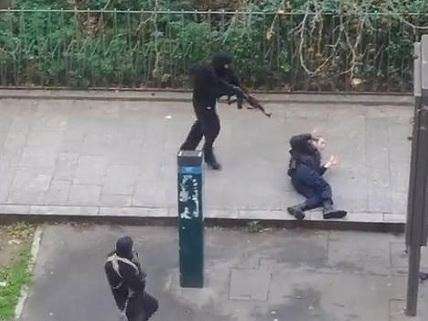 *UPDATE: Different authorities in France are saying different things to different people. The U.S. counter-terrorism officials who spoke to NBC News now say they can't confirm what they said they were told. All three suspects may be alive, and the 18-year-old may have surrendered himself to authorities.
Original post:
According to U.S. counterterrorism officials, authorities in France have identified three suspects in the armed attack on the headquarters of Charlie Hebdo, which involved three masked gunmen, killing one and apprehending two. Two of the men are in their 30s and related, Said Kouachi and Cherif Kouachi, and the third is 18-year-old Hamyd Mourad.
According to authorities*, two of the gunmen went down a list of names, shooting and killing those present, while the third waited outside the building. After they left the building, one of the gunmen shot a police officer in the middle of the street.
While Paris went into "lockdown" mode today during the hunt for the gunman, that did not appear to come with a "shelter in place" order like the 2012 lockdown of Boston after the marathon bombings did. That order ended up delaying the capture of the surviving Boston bombing suspect because he was able to hide undetected in a backyard boat.
Paris' alert level was set at maximum by the government after the shooting. The Straits Times describes the scene and talks to some residents out during the lockdown:
There are four times fewer tourists than normal. Those who have come tell us they haven't taken the metro," said Ylhan, a 31-year-old working in a nearby luxury store.

"We are in a country where there is freedom of expression," he said. "It's shocking that we are experiencing this in France. Sirens all day—it's frightening."

At the busy Saint Lazare station, about 100 people waited near a deserted platform while bomb experts investigated a suspicious package.

"It's awful, it's awful," said Anne Pajon, a Scot who has lived in Paris for 20 years, having just sent a series of text messages to check on her friends and family.

"It's scary. What's worrying is that we can't do anything. That's terrorism—it hits whatever we do. We cannot prevent it."

A concerned rail worker said they had been asked to remain vigilant, but "what can you do?"

"If something happens, I just hope that they will not shoot at me."
800 soldiers joined 500 armed police officers (many Paris police officers are unarmed) for the manhunt today.