Shootings in Ottawa Kill Soldier, Michael Brown Autopsy Leaked, Blackwater Guards Convicted: P.M. Links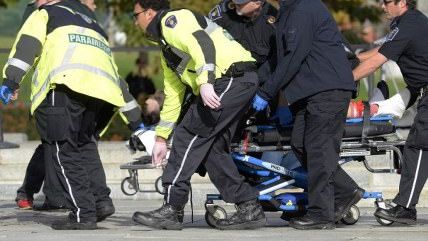 (THE CANADIAN PRESS/Adrian Wyld)
The Canadian Press/Adrian Wyld

Details are still vague about deadly shooting incidents in the downtown area of Ottawa today. Police say there were two shooting incidents at Parliament Hill and the National War Memorial. Reports of a third shooting incident proved to be untrue. A Canadian soldier was killed in one of the shootings, as was a male suspect.

According to the leaked official autopsy report, Michael Brown of Ferguson, Missouri, was shot at close range in the hand. Some experts who looked at the report say it reinforces the possibility that Brown was in a struggle with Officer Darren Wilson inside the police SUV. He also had marijuana in his system, which means nothing, of course.
A jury has convicted four former Blackwater guards hired to protect diplomats in Iraq in 2007 of dozens of charges related to the killing of 14 Iraqis and the injuring of 17 others. One was found guilty of first-degree murder.
Django Unchained actor Daniele Watts has been charged with lewd conduct for allegedly having sex with her boyfriend in a parked car in a case that drew wide national attention and accusations of racism against the Los Angeles Police Department. She has responded that the two of them were just making out.
Freed North Korean detainee Jeffrey Fowle has returned home to United States soil. Two other American citizens remain in detention.
A probe at the University of North Carolina shows that some college officials for decades directed thousands of students, many of them athletes, to fake classes to get their grades up.
The case about the Idaho wedding chapel fighting an alleged push by the city to make it marry gay couples may be complicated by some facts that don't quite add up.
Follow us on Facebook and Twitter, and don't forget to sign up for Reason's daily updates for more content.