ISIS Claims Kobani as Obama Admin Contradicts Itself, Climate Change vs. U.S. Military, Wendy Davis Defends Wheelchair Ad: P.M. Links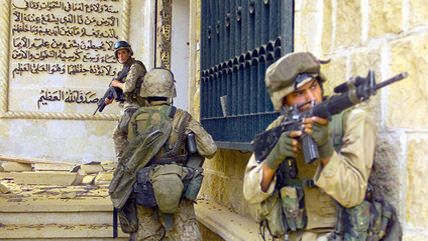 Screencap

ISIS has reportedly captured the strategic town of Kobani along the Syria-Turkey border. Senior officials in the Obama administration are having trouble keeping their story straight on whether the failure of our airstrikes means we should expect a new strategy involving American troops on the ground.

Does this mean we'll be training and arming moderate icecaps? Secretary of Defense Chuck Hagel says that climate change is going to pose a big risk to America's military.
WHATEVER YOU DO, DON'T PANIC! The Center for Disease Control says it must "rethink" its Ebola strategy after a Texas nurse caught the virus. Do I have Ebola, Google? The Internet giant is testing live-video medical advice.
Texas gubernatorial candidate Wendy Davis (D) is trying to deflect bipartisan criticism of her new campaign ad (it focuses on the fact that opponent Greg Abbott is in a wheelchair) by calling Abbott a hypocrite.
KMart is the latest major retailer to experience a security breach. Over 1,000 stores' registers were compromised by malware.
The Vatican is taking a kinder tone towards gays by focusing less on the Catholic Church's belief that homosexual acts are sinful, and emphasizing that LGBT individuals have "gifts and qualities to offer" the Church.
Denmark is moving toward banning bestiality.
Follow Reason and Reason 24/7 on Twitter, and like us on Facebook. You can also get the top stories mailed to you—sign up here.