Taliban May Take More Hostages, Police Investigate Tea Party Campaigners, Hillary Allegedly Pressuring The New York Times: P.M. Links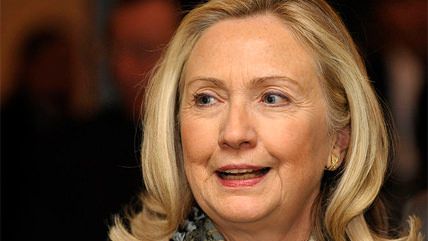 CSPAN

A Taliban commander says that "everybody" in the Islamist group will now "work hard to capture" more Americans like Bowe Bergdahl. So much for the hearwarming story.

Police are investigating a campaign worker and two other affiliates of U.S. Senate candidate Chris McDaniel. They were found inside a locked courthouse that contained ballots from this week's Republican primary.
Hillary Clinton's camp allegedly held a secret meeting with The New York Times and demanded that the paper be less critical of her.
President Barack Obama and the other G7 leaders expressed their support for the Ukrainian government's military action and called upon Vladimir Putin to rein in the pro-Russian insurgents destabilizing Ukraine.
Graffiti penises, harassment of women, and lots and lots of porn. Sounds kind of like a frat house, but nope, it's the Navy's famous Blue Angels. An internal investigation produced 63 pages of sordid details.
Three cops were shot and killed in Canada today. The suspected killer, Justin Bourque, has been spotted several times but is still on the loose.
General Motors has fired 15 people deemed responsible for the ignition-switch defect that was linked to 13 deaths and 54 accidents.
Follow Reason and Reason 24/7 on Twitter, and like us on Facebook. You can also get the top stories mailed to you—sign up here.