Michael Sam Drafted to NFL, Makes Out with Boyfriend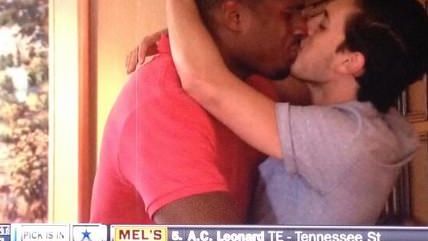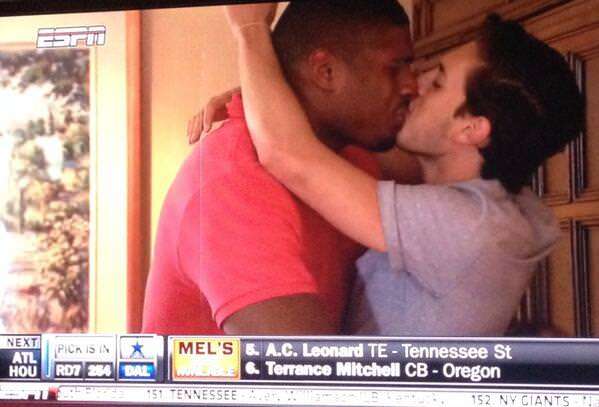 Famous master of the odds Nate Silver predicted that even though the actual likelihood of openly gay college football player Michael Sam being drafted into the National Football League (NFL) was about 50-50, he'd favor Sam's chances. Silver was right. Sam was picked up on Saturday and won't have to go far. The University of Missouri linebacker will be heading to the St. Louis Rams.
The celebratory coverage on Saturday included Sam crying his eyes out, then making out with his boyfriend and also smashing cake in his face for some reason. The White House even offered boilerplate, yawn-worthy congratulations: "The President congratulates Michael Sam, the Rams and the NFL for taking an important step forward today in our nation's journey. From the playing field to the corporate boardroom, LGBT Americans prove every day that you should be judged by what you do and not who you are."
In a welcome break from tradition, BuzzFeed did not scour the Internet looking for random assholes saying nasty things about Sam being gay and instead highlighted people jokingly bothered by the fact that the man has two first names. Nevertheless, one Miami Dolphins player tweeted out that the kiss was "horrible," and was subsequently fined and suspended.
Should Sam actually take to the field come the fall he'll be the first openly gay professional football player. Well, sort of. There have probably been dozens of football players who have been gay and have been known to be gay to other players. But Sam will be the first player everybody knows is gay as he comes into the NFL.
Meanwhile, Jason Collins, the first professional basketball player to come out as gay while still involved in the sport, was picked up by the Brooklyn Nets and played 22 games for them this season. Though Collins is close to retirement age, rumor has it the Chicago Bulls have their eyes on him.
Many folks have and will be quick to declare how much they don't care about the sexual orientations of professional athletes, actors, or anybody really. Fine. It is nevertheless a significant cultural development toward a country that actually doesn't care about individual sexual orientation. The apathetic should celebrate this development, as it is a harbinger of a future where such revelations become less and less of a big deal. We can instead argue over the things that matter, like how every single athlete and coach in professional sports is just terrible, except for that one guy who is carrying the whole team.