Obama Visits Wal-Mart, South Korean Prosecutors Target Ferry Owner, Johnny Manziel to the Browns: P.M. Links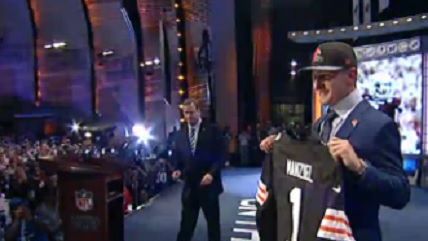 NFL screencap

President Obama visited a Wal-Mart in northern California to make a speech about energy. Labor activists showed up to protest. Former Labor Secretary Robert Reich and other labor activists criticized the president for his choice of venue.

Speaker John Boehner announced his appointments to fill the Republican seats on the House select committee on Benghazi, filling it with lawyers. Democrats have not announced any appointments or whether they will make any.
Nigerian military commanders had advanced warning that Boko Haram militants were on their way to raid a girl's boarding school in Chibok, according to an Amnesty International report, but couldn't raise enough troops to respond and left.
At least 20 pro-Russian militants were killed in Mariupol, Ukraine, according to government security forces, who say the rebels occupied a police headquarters.
Prosecutors in South Korea want to arrest the owner of the ferry company that owned the ferry that sank in April on charges of cargo overloading.
The 2014 NFL Draft began yesterday, with the Cleveland Browns drafting quarterback Johnny Manziel at #22.
Follow Reason and Reason 24/7 on Twitter, and like us on Facebook. You can also get the top stories mailed to you—sign up here.