Hillary Clinton Critical of Snowden Leaks, Oklahoma Plans Double Execution, Labor Leader Blasts Keystone Delay: P.M. Links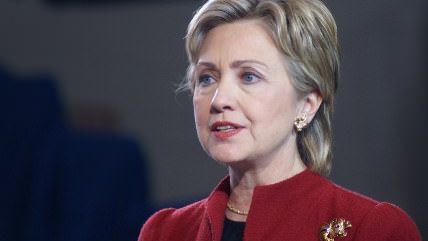 (marcn / photo on flickr)
Credit: marcn / photo on flickr

Hillary Clinton, in talks at the University of Connecticut, thinks it's "odd" that Edward Snowden fled to China and Russia after leaking National Security Agency domestic surveillance info and mentions that the United States has whistle-blower protections, either oblivious or pretending to be oblivious that the protections would not have covered Snowden.

Oklahoma is planning for a double execution on Tuesday. I wasn't aware that prisons had sweeps months.
Officials have decided not to file charges against Philadelphia narcotics officers accused of looting 22 bodegas and sexually assaulting women. The Philadelphia Daily News won the Pulitzer Prize in 2010 for exposing the story.
The head of Laborers' International Union is blasting President Barack Obama for delaying a decision on whether to allow the Keystone XL pipeline.
Overall U.S. military suicide rates declined in 2013, but the numbers for National Guard and reserve members have increased.
The president of Palestine has apparently told Secretary of State John Kerry that the new government will recognize Israel.
Follow us on Facebook and Twitter, and don't forget to sign up for Reason's daily updates for more content.