Lois Lerner Held in Contempt, Colbert to Replace Letterman, Teen Responsible for Mass School Stabbings Evaluated: P.M. Links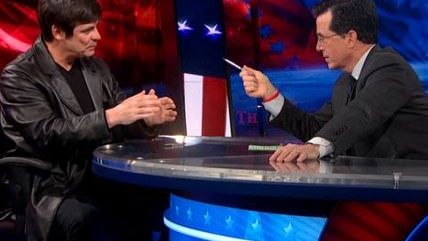 The Colbert Report

The House Oversight and Government Reform Committee voted along party lines (Republicans in favor; Democrats opposed) to hold former Internal Revenue Service official Lois Lerner in contempt of Congress for declining to testify about the agency's targeting of conservative nonprofits. She cited her Fifth Amendment right to avoid self-incrimination. The matter now goes to the full House.

Stephen Colbert will replace David Letterman on the Late Show, and Colbert's Comedy Central show, The Colbert Report, will come to an end. He says the parody right-wing version of himself is also done. All possible jokes about #CancelColbert actually succeeding have already been told this morning, so you'll have to move on.
The motives of the 16-year-old teen charged with the stabbing spree at a Pennsylvania High School that wounded more than 20 students remain unclear. The boy's attorney says he's asking for a psychiatric examination and said he's not sure the teen understands how severely he injured people.
A three-judge federal panel is hearing arguments today about whether Utah's ban on gay marriage recognition is constitutional. Observers say the court appears divided.
A federal administration review of the Boston Marathon bombing has found that agencies still aren't communicating with each other to share information about potential terrorism suspects.
Armed pro-Russian demonstrators in eastern Ukraine have reportedly rejected Ukraine's offers of amnesty if they stop stirring up trouble and seizing government buildings. They are demanding a Crimea-style referendum.
Follow us on Facebook and Twitter, and don't forget to sign up for Reason's daily updates for more content.